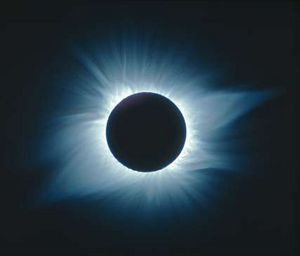 Commencing Tuesday, three eclipses - a lunar eclipse, a solar eclipse and another lunar - will take over the skies, a phenomenon which although experts say is not rare, will nevertheless be nature's grand spectacle.
On July 7, a penumbral lunar eclipse will occur as the moon rises over Australia and sets in western north and south America in the early pre-dawn hours, said C.B. Devgun, director of Science Popularization Association of Communicators and Educators (SPACE).
The eclipse, however, will not be visible over India.
"The penumbral eclipse will be so slight - just about eight percent - that it will not be visible to those in India," Ajay Talwar of the Amateur Astronomers Association told IANS.
The next eclipse - a solar eclipse - will however be visible across a 220-km belt circumference from west to east India.
"On July 22, there will be a solar eclipse which is just tailor made for India. It will be 21st century's longest solar eclipse. The eclipse will begin in the westernmost tip of the country - in Surat, Gujarat - and will travel through 13 states, and will move towards Arunachal Pradesh in the east," Talwar said.
An official at the Ministry of Science and Technology said: "The eclipse begins at 5.28 a.m. (IST) when the shadow of the moon touches the earth at local sunrise point in the Arabian Sea, close to the western coast of India. The eclipse ends at 10.42 a.m. (IST) when the moon's shadow finally leaves the earth at local sunset point in the South Pacific Ocean".
N Rathnasree, director, Nehru Planetarium added: "This eclipse is of special interest for the scientists and general public of India as its path of totality passes through thickly populated regions of west, central, east and north-east India."
People in parts of Gujarat, Madhya Pradesh, Uttar Pradesh, Bihar and the north-eastern states will be able to watch the total eclipse while other parts of the country will witness a partial eclipse.
The next solar eclipse will occur Jan 15, 2010.
Although the intensity of the eclipse visibility will be very low over Surat - since it will begin there at sunrise, the intensity of the eclipse will increase as it moves eastwards. So places like Bhopal, Varanasi, Patna will see a 99 percent eclipse.
"If you want to see the best solar eclipse, you should probably go to Varanasi or Patna. In Delhi you will see 96 percent of the eclipse," Talwar said.
After the solar eclipse, there will be another lunar eclipse, on Aug 6.
"It will again be a penumbral lunar eclipse on August 6 which will be 15 percent. It will be visible over India in the later half," Talwar said.
Although it sounds unique, experts said that a triple eclipse is not a rare occurrence.
"In 1991, there was a lunar eclipse on June 27 and on July 26. In between there was a solar eclipse on July 11. So a triple eclipse is not a rare occurrence," Talwar said.