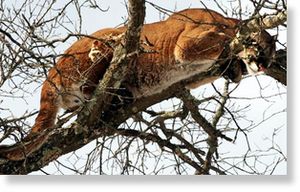 An extremely rare sighting of a mountain lion has been confirmed near Spooner, Wisconsin, according to the Wisconsin Department of Natural Resources.
The animal, an adult male weighing between 120 and 130 pounds, was first seen Tuesday by a homeowner about 15 miles northwest of Spooner in Burnett County. Dogs were used to track the animal and chase it up a tree.
After the DNR was notified, officals from the department joined in the search, and on both Wednesday and Thursday the mountain lion was chased up trees. Two attempts to sedate the animal with a tranquilizer dart failed, and the mountain lion was not captured.
Officials said the animal did not appear to be aggressive towards humans and nearby residents should not be worried for their safety.
A mountain lion was last seen in Wisconsin a year ago. That animal was spotted in the southeastern part of the state and was eventually shot in Illinois. Prior to that, there had been no confirmed sightings of the wild animal in the state since the 1900s.