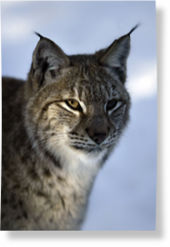 The Finnish population of the Eurasian lynx (Lynx lynx) has increased, and the animal's presence has been noticed in residential areas as well.
"The bigger the amount of lynxes, the sooner they get used to people, and the animal begins to trust humans", says special researcher Ilpo Kojola from the Finnish Game and Fisheries Research Institute.
"The number of lynxes in Finland is about 1,500 individuals", Kojola adds.
A lynx can appear in a backyard when the day grows dimmer.
"There it may be seen sitting and observing its surroundings in a seemingly carefree manner, even if the garden lights are switched on", Kojola notes.
The Eurasian lynx is a nocturnal animal. Its mating season will start at the end of the current month, continuing until March.
According to Kojola, it is possible to spot lynxes even in residential areas at the beginning of March. If no visual evidence is there, it is at least possible to hear the calls of these biggish cats in heat.
"The noises of a lynx can be described as very loud caterwauling, and a male lynx can also bark", Ilpo Kojola says.
The number of lynxes has increased strongly for example in the province of Uusimaa in the course of the past ten years. Hunting has been cautious, while plenty of food, including deer and hares, has been available.
"Among our big predators, the lynx is the least feared animal, one which seldom causes any conflicts with humans", Kojola reports, adding that a lynx can sometimes snatch an occasional cat or sheep.
In fact, Kojola does not remember any incidents in which a lynx would have posed a danger to a human being.
Environmental inspector Raimo Pakarinen from the City of Helsinki says that mild winters are bound to be beneficial to lynxes, as the animal is not yet as urbanised as the fox.
"Sipoo, Espoo, and Vantaa are suitably peaceful for the lynx to go in search of prey. However, lynx tracks have repeatedly been spotted for example in Helsinki's district of Viikki. Even one visual sighting has been made", Pakarinen reports.
According to Pakarinen, the lynx - as a definite specialist in the hare department - could be a suitable solution to the capital's ongoing rabbit problem.
Further lynx observations have been made in Kirkkonummi, as well as in Turku and in its neighbouring areas.