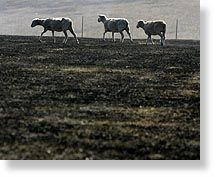 Overlooked amidst the human tragedy, thousands of animals -- kangaroos and koalas as well as cattle and sheep -- also perished in the scorching fires that have swept through southeast Australia.
At least 130 people died in the flames, official figures showed, but nobody was prepared to venture an estimate on the animal losses.
"It's been absolutely devastating," the president of the Wildlife Protection Association of Australia, Pat O'Brien, told AFP.
"We've lost huge numbers of wildlife in the forest. By all reports we've got animals dying even before the flames reach them.
"Kangaroos, wallabies, all the animals that live in the trees -- the possums, koalas -- just gone, it's been a terrible, terrible thing for wildlife, total devastation," he said.
"There have been huge losses of farm animals as well, but those reports are still coming in."
The National Farmers' Association said it had no idea about the number of animals killed as its members were concentrating on the toll of human life and property, but reporters told of charred cattle and sheep carcasses along fire-ravaged roads.
One stark image published in a local newspaper showed a farmer with a rifle shooting a badly burned sheep to put it out of its misery.
Frantic survivors have also told of pets which could not be rescued in the last desperate attempts to save human life, with dogs and cats left behind as families dashed for their cars.
But Australia's relationship with animals is one which many in the rest of the so-called developed world might find strange.
As the fires raged in the south, a five-year-old boy is believed to have been snatched by a crocodile in floodwaters in the north, but his parents have said they would not like the reptile killed.
It was simply behaving naturally, they said.