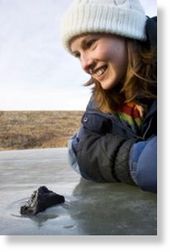 The light was fading late Thursday afternoon when the two scientists drove through this pretty little valley just east of the central Saskatchewan-Alberta boundary, but it was still bright enough to spot something on a modest little pond.
"It was a piece of rock frozen into the pond," said University of Calgary graduate student Ellen Milley. "It triggered us to stop."
Geologist Alan Hildebrand knew as soon as he got a close look at it and the other bits of black, dimpled rock nearby that he was looking at emissaries from outer space.
"I know what a meteorite looks like and these are meteorites, very simple," he said.
The fist-sized chunks of black, dimpled rock are small fragments of a 10-tonne meteor that blazed across Prairie skies last week, older than the Earth and from an as-yet-undetermined asteroid belt unimaginably far away.
"It is very cool," said Milley.
People in Manitoba, Saskatchewan and Alberta have been buzzing about the huge fireball that lit up the night sky over the three provinces on Nov. 20. Witnesses reported hearing sonic boom rumblings and said the fiery flash was as bright as the sun.
In all, Milley and Hildebrand collected about 12 pieces of that giant space rock in and around the pond.
The largest weighed 250 grams and smallest a mere 10 grams. Larger pieces are expected as teams search along the path the asteroid took to the Earth's surface.
As meteorites go, there doesn't seem to be anything unusual about this one, said Hildebrand. Still, any rock from space is special.
"These rocks are 4.5 billion years old," he said. "They date from the origin of the solar system.
"They tell us about a time we have no other sample of."
As well, because so many saw the meteor's descent, scientists will be able to plot where it came from.
"That's only been done nine times before," Hildebrand said.
Ian Mitchell, who owns the land where the fragments fell, said for years the family has called the small body of water that they stock with trout every summer "the fish pond."
"I guess we'll call it the meteorite pond now," Mitchell joked, adding that his 12-year-old son was thrilled to learn that bits of outer space had landed in his family's fields.
Mitchell thought there was a chance something might turn up on one of his fields.
"I was thinking it would be neat if we found something, but I never expected this. As it turns out, I've been driving by these (rocks) for several days now."
The pieces are owned by the owner of the land on which they are found. Under Canadian law, meteorites may be bought and sold, but a federal permit is required to export them.
Meteorites can be valuable, but Mitchell doesn't seem starry-eyed about that.
"For now, it's souvenirs," he said. "We'll see. Sell, donate ... I'm not really sure yet."
His biggest concern is that his land isn't overrun with rockhounds. He said he plans to restrict access as much as possible until a proper search can be organized.
The university estimated there could be thousands of meteorite pieces strewn over a 20-square-kilometre area.
Hildebrand, a co-ordinator of the Canadian Fireball Reporting Centre with the Canadian Space Agency, estimated that the meteor could have been seen as far as 700 kilometres away, into the northern United States.
It contained about one-tenth of a kiloton of energy when it entered the earth's atmosphere on Nov. 20, roughly the equivalent of 100 tons of the chemical explosive TNT.
"It would be something like a billion-watt light bulb," he said.
Besides sonic boom sounds, witnesses also reported hearing hissing or crackling noises like frying bacon.
Fireballs can act as radio transmitters, Hildebrand said, causing odd sounds.
The largest meteor shower in Canada occurred northeast of Edmonton near the town of Bruderheim in 1960. More than 700 fragments were recovered, and together they weighed a total of 300 kilograms.
This latest meteor has captured the imagination of sky watchers around the world.
Robert Haag, a space rock collector from Arizona, has offered up to $12,000 for the first one-kilogram chunk of the meteor that is found.