WINFIELD. - A corner of an earthen levee broke Friday, releasing Mississippi River waters that officials predicted would "ultimately inundate" part of a Lincoln County town.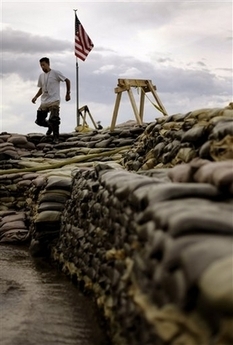 ©AP Photo/Jeff Roberson
Rick Yeomans walks atop a massive wall of sandbags holding back floodwaters from the Mississippi River as he checks pumps along the wall Thursday, June 26, 2008, in Clarksville, Mo.
The National Weather Service said in a flash flood warning issued at 5:55 a.m. that it was unknown how fast the water was moving. It was also uncertain about the condition of the rest of the Pin Oak Levee at Winfield, about 45 miles northwest of St. Louis.
The surrounding rural area is also expected to flood.
Andy Binder, spokesman for Lincoln County emergency management operations, had said Thursday that the Pin Oak levee was holding but showing signs of strain. It was protecting about 100 homes in Winfield, numerous businesses and thousands of farm acres.
Officials called for a two-day break in filling sandbags on Thursday and Friday, and planned to refresh their sand supply and resume bagging Saturday. They said at the time they had sandbags available to fix problem spots as needed.
For days, flood fighters at Winfield have been concerned about trouble spots on the northeast side of the levee, where they hurriedly patched mudslides with sandbags. However, the breach occurred on the south section of the levee.
White water poured through a hole that appeared to be about 30 feet long.
Officials said about three-quarters of the 100 homes had already been evacuated. The U.S. Army Corps of Engineers said it received a report from the agency's flood-fighting personnel at 5:20 a.m. Friday that the levee was breaking. Sirens blared shortly before 6 a.m.
Sheriff's deputies went door-to-door yelling, "The levee broke. Get out."
Winfield resident Debbie Halcomb, 52, reached by telephone early Friday, said she hadn't yet evacuated her home. She and others were packing up a television, bedding and other items, like paper towels, she said.
She had been sleeping in a bed up on milk crates when she awoke to the sound of sirens.
"On my God, I was hoping it would hold, but it didn't," she said. "I think we probably lost it on this last bunch of rain," she said.
Halcomb had regularly been driving over to the levee to peer at it through binoculars, and credited emergency responders for days of work to try to save the earthen structure, saying they'd done a fantastic job.