A raging forest fire forced the evacuation of six villages in southwest Cyprus on Wednesday and the water-starved island sought aid from Greece.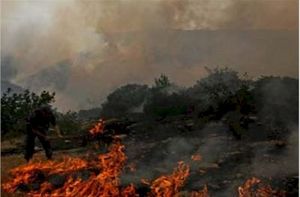 ©Unknown
Facing one of the worst droughts on record, the island had to use scarce water reserves
to battle a blaze which destroyed at least three holiday homes and burned orchards and farms.
Authorities said it was difficult to calculate the extent of the fire as thick plumes of smoke covered the semi-mountainous region between the cities of Limassol and Larnaca.
"It's an environmental disaster," said Neoclis Sylikiotis, the Cypriot interior minister.
Six sparsely populated villages were evacuated as a precaution.
"Right now the fire appears contained. This will be a difficult summer because of the drought and water shortage, and we all have to be very vigilant. Even the smallest spark can trigger a disaster," Sylikiotis said.
Helicopters from British military bases in Cyprus were assisting firefighters, backed up by the army and volunteers, and Greece sent two aircraft to the island.
It was not immediately clear what caused the blaze, which started before dawn and quickly spread, fanned by winds and tinder box conditions from a dry winter. Authorities said the fire could have reignited from another one in the region earlier in the week.