FORT MADISON, Iowa - The swollen Mississippi River ran over the top of at least 11 more levees on Wednesday as floodwaters swallowed up more U.S. farmland, adding to billion-dollar losses and
feeding global food inflation fears
.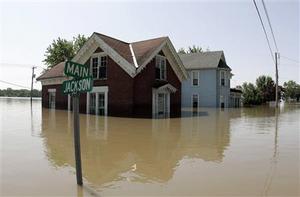 ©REUTERS/Frank Polich
Houses sit in flood waters from the Mississippi River in La Grange, Missouri June 18, 2008.
Volunteers and aid workers were piling sandbags up and down the most important U.S. inland waterway to try to protect more levees and thousands of acres of prime crop land threatened as the river's crest moves south after last week's torrential rains.
"Their misfortune had been our fortune. I'd rather it hadn't come at the expense of others. But it is what it is," Steve Cirinna of the Lee County Emergency Management Agency said of the levee breaches, which lowered the river.
The slow-rolling disaster, the worst flooding in the Midwest in 15 years, has swamped vast sections of the U.S. farm belt and forced tens of thousands of people from their homes.
The cost of the disaster may end up rivaling that of 1993 Midwest floods that caused more than $20 billion in damage and 48 deaths. This month's flooding has caused few deaths, with Iowa hardest hit. But the damage has yet to be fully assessed.
The prospects of smaller crops have already jolted commodity markets, food producers and exporters. Chicago Board of Trade
corn prices traded at a record $8.07 a bushel.
The floods will mean more food inflation, not only for U.S. consumers, but also for dozens of countries that buy American grain. The United States exports 54 percent of the world's corn, 36 percent of its soybeans and 23 percent of its wheat.
RIVER FLOODING MOVES SOUTH
LeRoy Lippert, chairman of emergency management committee for Des Moines County, Iowa, said volunteers and aid workers in the town of Burlington filled 2.5 million sandbags in the past week before the river crested.
"All systems are holding right now. We're in a watch and wait mode with our levees. The situation has stabilized in the last 24 hours," Lippert said.
"The best news is that we're not getting any rain, that would be utterly devastating if we got heavy rain now."
The Army Corps of Engineers, which operates river locks and dams, said 19 levees along the Mississippi had failed with the latest levee breaks near Meyer, Illinois, and north of St. Louis, Missouri.
"They were lower level agricultural levees," said St Louis district Corps spokesman Alan Dooley. "We're also watching another seven levees that may overtop in the next couple of days ... all agricultural levees."
The Corps has identified 26 levees protecting about 285,000 acres of cropland that were already under water or at high risk of flooding. Another seven were seen as potential risks.
Among the most fertile farms in Iowa and Illinois have land that lies in the Mississippi River's vast flood plain.
"Some of the richest farmland is to be found between the river and the bluff and we aim to protect it," said Lippert.
Estimates are that 5 million acres across the Midwest have been ruined and will not produce a crop this year.
Iowa and Illinois usually produce one-third of all U.S. corn and soybeans. Expectations of reduced crops from the main sources of livestock feed, renewable fuels like ethanol, starch and edible oils has sent commodity prices to record highs.
"We continue to get news of more acreage losses because of the flooding and that continues to support the market," said Mario Balletto, Chicago-based grains analyst for Citigroup.
The worst flooding has struck Iowa but evacuations have also affected flooded sections of Indiana, Wisconsin, Illinois, and Minnesota.
Weather forecasters said thunderstorms may return to Iowa and Illinois on Thursday.