A torrent of muddy, brown water from a breached quake lake poured through the deserted Chinese town of Beichuan on Tuesday, sealing the fate of the already doomed community's destruction.
Surging rapids from Tangjiashan lake gushed into the centre of Beichuan and spilled down side streets as previously evacuated locals watched from ridges surrounding the town.
"It's really hard for me to take, our city was so good and beautiful but now there's nothing left. My heart aches," said Zhu Yunyou, a 54-year-old farmer who lost his house in the May 12 earthquake.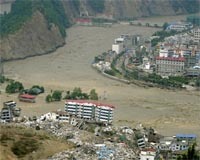 ©AFP
Flood water flow along Jian Jiang River, after a controlled drainage operation on the Tangjiashan quake lake, in the worst earthquake-hit area of Beichuan county, in China's southwestern province of Sichuan on June 10, 2008. Muddy, brown water from a quake lake in southwest China was pouring into the flattened town of Beichuan June 10, piling new woes on its tormented population.
The lake at Tangjiashan, just above the town, was created when landslides blocked a river in mountainous Sichuan province during the quake. It has emerged as one of the key challenges in post-disaster relief efforts.
Authorities had warned that more than a million people could be at risk if the unstable dam burst its banks, and more than 250,000 in most imminent danger were evacuated.
"The situation is much better now. About half of the lake has been drained," Capt. Qi Huangqing, a helicopter pilot with a state-owned aviation firm, told AFP.
Qi was flying specialists, soldiers and others away from Tangjiashan to the nearby town of Leigu aboard a giant Russian-built helicopter.
About 400 people were to be brought out Tuesday, with a small group left to monitor the lake, he said.
Beichuan was one of the areas worst-hit by the quake, with most buildings either destroyed or badly damaged.
All former residents have been evacuated from the town, which will be rebuilt at a different location several kilometres away, state-run Xinhua news agency reported.
A police checkpoint on the Beichuan outskirts stopped people from entering the town on Tuesday, citing the risk from the draining.
Near the checkpoint, backhoes were clearing away the debris of destroyed homes.
The May 12 quake was the worst natural disaster to hit China in a generation, killing 69,146 people and leaving 17,516 others missing, according to the latest official toll.