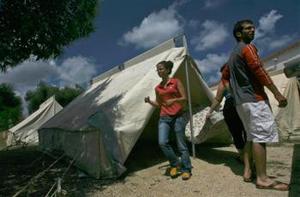 ©AP Photo/Phil Ipparis
People setup tents at the village of Fostena, Greece, Monday June 9, 2008. Seismologists warned Monday that a strong aftershock was expected in southwestern Greece a day after a powerful earthquake killed two people and injured nearly 150. The quake, which had a preliminary magnitude of 6.5, struck Sunday afternoon near the western port city of Patras, about 120 miles (200 kilometers) west of Athens, the Athens Geodynamic Institute said
Authorities evacuated three villages in southwestern Greece on Monday after seismologists warned that a strong aftershock was expected in areas where a powerful earthquake killed two people and injured more than 200.
The quake, which had a preliminary magnitude of 6.5, struck Sunday afternoon near the western port city of Patras, about 120 miles west of Athens.
It flattened or severely damaged about 200 houses in the provinces of Ahaia and Ilia and left more than 800 buildings with lighter damage and cracks, state NET television said. The quake also damaged the air traffic control tower at a military airport.
By late Monday, 230 people had sought medical treatment for injuries suffered during the quake, NET television said. More than 20 remained hospitalized.
Dozens of aftershocks had rattled the area, although all were relatively small, with preliminary magnitudes below 4.7, the Athens Geodynamic Institute said. But "the next two to three 24-hour periods remain critical," said Giorgos Stavrakakis, the institute's head.
A strong aftershock of a magnitude of 5 to 5.5 was expected in the coming days or possibly weeks, seismologist Giannis Kalogeras said. "That is based on our experience of the region," he said.
Authorities started evacuating people from three villages for fear of rockfalls set off by aftershocks.
In the small mountain village of Santomeri, one of those ordered evacuated, farmer Nikos Dimopoulos' house was demolished by a 13-foot boulder that crashed down the hillside.
"I have nowhere to stay," said Dimopoulos, 72, who was tending his sheep when the quake struck. "I'll spend the night in my stable."
Tents were put up for those left homeless but few were used, with most people taking refuge with friends and family whose houses had not been damaged, officials said. Schools were closed, and authorities appealed to people not to return to damaged homes because of the danger of aftershocks.
Officials said a preliminary survey showed the major archaeological site of Ancient Olympia, birthplace of the ancient Olympics, was undamaged. In the small museum of Ancient Elis, near the epicenter, 50 ancient vases and two stone inscriptions were damaged, the Culture Ministry said.
The government pledged up to $20,000 to those whose homes sustained severe damage and said it would pay to rebuild houses that were destroyed. The announcements came after an emergency Cabinet meeting in Athens presided over by Prime Minister Costas Karamanlis
Much of the afflicted zone was at the heart of devastating forest fires last August killed 66 people and burned hundreds of homes.
The Patras area is one of the most earthquake-prone in Greece, which is among the world's most seismically active regions. In 1999, a magnitude 5.9 quake near Athens killed 143 people.
Associated Press writers Elena Becatoros in Athens and Petros Karadjias in Santomeri contributed to this report