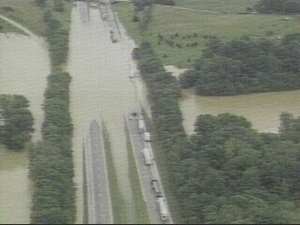 ©WRTV Photo
Flooding in Putman County has closed Interstate 70
Franklin, Indiana - Floodwaters forced countless residents from their homes, breached dams and closed portions of major highways,
yet officials said the worst could still come as rivers continued to swell in south-central Indiana.
Gov. Mitch Daniels declared emergencies in 10 counties Saturday, after storms dumped up to
10 inches of rain
on already soggy ground.
State Homeland Security Director Joe Wainscott said officials had no idea of the scope of evacuations, many by boat, but no fewer than several hundred homes and businesses were affected.
Ninety percent of the small town of Paragon, southwest of Indianapolis, was underwater, Wainscott said. Flooding was extensive in Terre Haute and Spencer, he said.
No injuries or deaths were reported.
"At this point, mercifully, we believe all Hoosiers are secure," Daniels said during a news conference. "We hope that will continue."
Daniels said that although flash flooding was receding in some areas, other places would be hit even harder when rivers started cresting. Four to 10 inches of rain hit areas south of Indianapolis overnight and Saturday, the National Weather Service said.
The U.S. Coast Guard dispatched two rescue helicopters from the Great Lakes to Indianapolis, where they could be sent to flooded areas as needed, Wainscott said.
A scuba team had performed swift-water rescues and helped evacuate homes in Johnson County, south of Indianapolis, sheriff's dispatcher Zachary Elliott said. Dams in the county failed in the Prince's Lakes area, threatening the town of Nineveh about 30 miles south of Indianapolis, county Commissioner Tom Kite said.
Water at one point reached the first floor of Johnson Memorial Hospital in Franklin, but no patients had to be moved. Cars were submerged up to their windshields in the county government building parking lot, and Indiana National Guard troops rerouted traffic around the main street through the city of about 20,000 people. Franklin College had buildings flooded and damaged.
Saralee Mann, 68, had 5 feet of water in her backyard and 3 feet in her basement, but planned to ride the flooding out.
"It'll go away as quickly as it came up," said Mann, who has lived in the home for 49 years. "It's just that it's got to quit raining before it goes down."
Weather Service hydrologist Al Shipe said flooding on the White River in some areas south of Indianapolis over the next two to three days could reach levels comparable to the historic flood of 1913. That flood killed 200 people statewide and displaced 200,000, according to the Indiana Historical Society's Web site.
The hardest hit areas in the next couple days could be Spencer or Martinsville, southwest of Indianapolis, Shipe said.
North of Martinsville Saturday, Ben Pace watched motorboats moving through his Morgan County community rescuing his neighbors.
Pace said the rain didn't seem that bad when he woke up, but he then watched water rise 6 to 8 inches in his backyard shed.
"Then I realized that it's worse than it's ever been," he said.
A rescuer boated to his front door to get him. He managed to grab some clothes and his dog, leaving the home that had knee-deep water in his bedroom.
In western Indiana, water more than a foot deep flowed quickly around houses in Terre Haute and other areas of Vigo County. Houses on the south side of the city resembled islands in the murky brown water that lapped against U.S. 41. The water submerged cars and left roads invisible.
J.D. Kesler, deputy director of the Vigo County Emergency Management Agency, said more than 200 people had to be rescued from their homes, vehicles and nursing homes after 6 to 9 inches of rain fell within 12 hours.
Peter Perdoue, 35, a mortgage broker from Terre Haute, heard a trickle Saturday morning and checked his daughter's basement room. The water had risen above the window.
"It was almost like I was standing inside an aquarium," he said.
Within a few hours, sewage had started backing into his basement and it wasn't long before the waters had filled his basement up to the 10-foot ceiling.
People also were evacuated in the Lake Lemon area about 10 miles northeast of Bloomington. Dams near Gold Point were close to collapse, police said. Interstate 70 was closed in Clay County in west-central Indiana, and Interstate 65 and another major route, U.S. 31, both were closed near Franklin.
Residents of Helmsburg, a town of about 6,000 people 40 miles south of Indianapolis, were loaded onto buses and taken to a YMCA in nearby Nashville, Brown County Red Cross Chairman Wayne Freeman said.
More than 30,000 electric customers lost power, the Indiana Utilities Regulatory Commission said.
Daniels' disaster declaration for Brown, Clay, Greene, Johnson, Monroe, Morgan, Owen, Shelby, Vermillion and Vigo counties was a first step toward seeking federal assistance.
--
Associated Press Writers Ken Kusmer in Indianapolis and Ryan Lenz in Terre Haute contributed to this report.