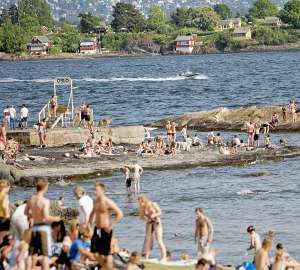 ©Stian Lysberg Solum/Scanpix
Sun-worshippers flocked to the beach at Huk on the Bygdøy peninsula in Oslo
A period of unusually warm weather has settled over southeastern Norway, with temperatures due to exceed 30C (nearly 90F) for the next week. No rain was in sight.
"It looks very good, with high temperatures through to Thursday next week," state meteorologist Øyvind Johnsen told Aftenposten.no on Tuesday.
Even the temperture of the water in the Oslo Fjord was rapidly rising. It's often still below 10C (50F) in early June, but Norwegian Broadcasting (NRK) reported water temperatures at some Oslo-area beaches of 18C (nearly 70F) on Tuesday morning.
Even the often rainy West Coast could look forward to summerlike weather, with temperatures only slightly lower than in the southeast.
It's been warm, bordering on downright hot, since late last week. Few are complaining, but Norwegians quickly notice the lack of air conditioning in most homes. Nighttime temperatures have stayed relatively warm as well, with morning breezes dying down in the afternoon and evening in the Oslo area.
Northern Norway isn't quite as summery, with temperatures around 15C (60F). Rain was also in the forecast, "but the north will also get some really nice weather in between," Johnsen said.
The lack of rainfall in recent weeks has sharply increased the danger of forest fires. Caution was urged in all the hills and woods around Oslo.