BEIJING - China on Sunday became the latest country to declare war on plastic bags in a drive to save energy and protect the environment.
Under new regulations, flimsy bags under 0.025 millimeters thick are banned and shopkeepers must charge for carrier bags. Those found breaking the law face fines and could have their goods confiscated.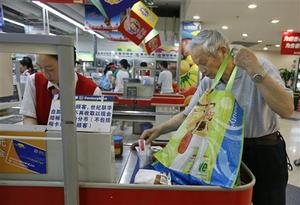 ©REUTERS/Claro Cortes IV
A shopper puts groceries he bought in his own bag after stores in China stopped giving free plastic bags at a supermarket in Beijing June 1, 2008. China is trying to kick a 3 billion-a-day plastic bag habit. The world's most populous nation on Sunday will join a growing list of countries, from Ireland to Bangladesh, that are aiming to change shoppers' habits when a ban on the production of plastic bags under 0.025 millimetres thick comes into force.
Shoppers in downtown Beijing and in Internet chatrooms seemed largely sympathetic to the idea. China, which gets through three billion plastic bags a day, is increasingly aware of the damage to the environment caused by its breakneck growth.
"Sorry, I can't give you a plastic bag. It's illegal from today," said one young woman, Zhang Lihua, who was selling cosmetics in a department store in the capital.
China, which consumes 37 million barrels of crude oil each year to manufacture more than one trillion plastic bags, is following in the footsteps of countries such as Ireland, Rwanda and Bangladesh. Italy is due to introduce a ban by 2010.
"To protect the environment, they shouldn't provide plastic bags," said one Internet posting on sina.com. "As time goes on, people will get into the habit of carrying their own bags when they go shopping."
Sceptics say the fate of the initiative will depend on how diligent police and inspectors are in enforcing the law.
"Is there a ban on plastic bags?" asked a man in a cake shop. "I didn't know. Anyway, maybe it'll take effect next month. I'm sure no one is going to enforce that today."
Ultra-thin bags are the main target of the crackdown because they are typically used once and then thrown away, littering streets, fields and streams and creating what the Chinese call "white pollution."
Chen Wei, a seller of steamed bread buns in central Beijing, was still using ultra-thin bags on Sunday.
"When I've used them all up, I'll stop. Then my customers will have to bring their own bags, or I will charge them two mao ($0.03) or so for a bag," Chen said.