AURORA, Neb. - A storm bearing hail and possible tornadoes struck central Nebraska Thursday night, damaging businesses, derailing train cars, tearing down trees and disrupting power to thousands.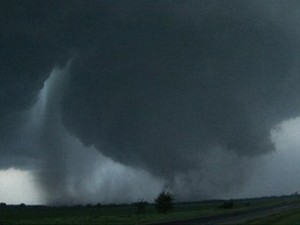 ©ABC
Scores of tornadoes swept across Kansas and Nebraska Thursday, damaging homes and flipping a 90-car train off the tracks.
A possible tornado touched down near Aurora, about 70 miles west of Lincoln, damaging a few businesses and damaging at least one house on the outskirts of town.
There were no immediate reports of deaths or injuries.
Tornadoes were also reported in Kearney, about 60 miles west of Aurora, where
90 rail cars were blown off the tracks outside the city limits
. There were reports of downed trees and power lines throughout Kearney, and reports of damage on the University of Nebraska at Kearney campus and at a county fairgrounds.
Initial reports from the Nebraska Emergency Management Agency indicated several dozen homes were damaged in both Aurora and Kearney.
A tornado also swept through a rural area near Belleville in north-central Kansas Thursday night, damaging about six homes, but no injuries were reported.
Some residents were stranded in their damaged homes until they were rescued before midnight, said Raymond Raney of Republic County's emergency management department.
Nebraska Gov. Dave Heineman declared a state of emergency Thursday night, which allows access to state and federal resources for storm cleanup. He readied the Nebraska National Guard in case its help was needed.
"We won't know the full extent of the damage until tomorrow. However, it appears that Kearney was hardest hit and that is where our assistance will be focused overnight," Heineman said.
Heineman planned to travel to those areas Friday.
Downtown Aurora appeared mostly untouched by the storm, but there were twisted trees and metal buildings on the outskirts. State officials closed down a section of Interstate 80 nearby because of downed power lines.
State officials were headed to Kearney to assess the damage. Jen Rae Hein, spokeswoman for Gov. Dave Heineman, said the state's emergency operations center Buffalo County residents were warned to remain indoors and travel was discouraged.
Nebraska Public Power District spokesman Mark Becker said 12,000 Kearney customers were without power Thursday evening.
The National Weather Service issued several advisories for Nebraska and Kansas into Friday morning, including flooding warnings for areas already struggling from heavy rains earlier in the week. That storm system dumped 7 inches of rain on some parts of central Nebraska.