Some 400 years after they were hunted to extinction in Britain for their fur and medicinal oils, beavers are to live in the wild again. Up to 20 will be set free in a secluded forest in south-west Scotland, ministers in Edinburgh said yesterday. The initiative is expected to be the first in a series of projects to reintroduce the beaver throughout Britain over the next few years.
Conservationists in Wales will unveil plans this week to find up to five locations where the beaver, Europe's largest rodent, could eventually be released.
Next month, Natural England, the government conservation agency, will publish a study on the feasibility of reintroducing beavers in areas such as Devon, Dorset, the Thames valley, East Anglia or the Lake District.
In the first of these projects, between 15 and 20 beavers will be set free beside five small lochs in Knapdale, south of the Crinan canal near Lochgilphead in Argyll.
Up to four families of wild beavers are being flown in from Norway this autumn, and will be released next spring by the Scottish Wildlife Trust and Royal Zoological Society of Scotland after they are quarantined and acclimatised.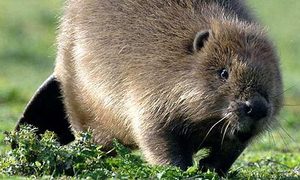 ©Barry Batchelor/PA
Up to four families of beavers are to be released in a secluded forest in south-west Scotland.
Yesterday's announcement by Michael Russell, the Scottish environment minister, was greeted with delight by both organisations. A similar attempt to reintroduce beavers in Knapdale was rejected by Scottish executive officials in 2005 after a campaign by local landowners. Russell said: "They are charismatic, resourceful little mammals and I fully expect their reappearance in Knapdale to draw tourists from around the British Isles, and even further afield."
Allan Bantick, chair of the Scottish Beaver Trial Steering Group, said it was a "historic moment" for conservation.
But local farmers and British Waterways, which owns the 200-year-old canal, fear the beavers could spread, with their activities causing floods to farmland, roads and paths, and undermining the canal's banks. Andrew Bradford, of the Scottish Rural Property and Business Association, said reintroductions in the Baltic and Bavaria had caused environmental damage: "The reality is, having reintroduced them, it will be damn difficult to stop them spreading."
The beavers will be radio-tagged and micro-chipped and their movements monitored. If the pilot scheme succeeds, a second site in Scotland will be chosen in 2010.