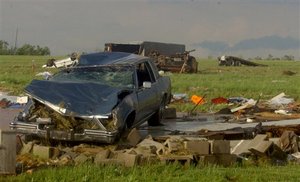 ©Unknown
Many have fled this depressed, pollution-scarred mining town. Those who have chosen to stay or have not yet relocated face a new heartache. A tornado ripped through a 20-block swath of Picher late Saturday afternoon, killing at least seven people. The same storm system then moved into southwest Missouri where tornadoes took the lives of at least 12 others, authorities said.
Oklahoma Highway Patrol Lt. George Brown said Picher's victims included an infant. He said at least three people were confirmed missing.
"We've seen homes that were completely leveled to the foundation," Brown said. "In a few of these homes you would have had to be subterranean to survive."
Ottawa County Emergency Manager Frank Geasland said dozens of people were injured, some seriously.
"Trees are toppled over, ripped apart," he said. "There are cars thrown everywhere. It looks like a bomb went off, pretty much."
Brown said 32 people were transported to Integris Baptist Hospital in the nearby town of Miami. Of those, 26 were treated and released.
Many families have moved away from Picher to escape the lead pollution left by mining operations. The town's population has dwindled from a peak of roughly 20,000 to about 800 people.
Oklahoma Gov. Brad Henry issued a statement saying a major emergency response was under way. He planned to visit the area Sunday.
"Our thoughts and prayers are with the people of Picher and all of the other Oklahoma communities that have been impacted by the latest wave of severe weather," Henry said.
At least 12 people were killed after severe storms spawned tornadoes and high winds across sections of southwestern Missouri, the State Emergency Management Agency said. Ten of the dead were killed when a twister struck near Seneca, about 20 miles southeast of Picher, near the Oklahoma border.
"They're going over the hard-hit area and turning over everything and looking," SEMA spokeswoman Susie Stonner said of emergency workers' search for victims and assessment of damage. "It's hard to do in the dark."
The number of injuries across the area was not immediately available, though The Joplin (Mo.) Globe reported that more than 90 people from that region were being treated at Joplin hospitals.
Television footage showed some destroyed outbuildings and damaged homes west of McAlester and near Haywood. At a glass plant southwest of McAlester, the storm apparently picked up a trailer and slammed it on top of garbage bins.
"These are rural areas that we are in," Pittsburg County Undersheriff Richard Sexton told KFOR-TV in Oklahoma City. "These are good people coming together at this time."
In storm-weary Arkansas, a tornado collapsed a home and a business, and there were reports of a few people trapped in buildings, said Weather Service meteorologist John Robinson.
Central Park Elementary School in the northwest Arkansas city of Bentonville had roof and window damage, and damage was also reported at Pine Creek Center School.
The storms remained active into the night as they swept eastward, with watches and warnings abundant across a wide swath of the Plains and South.
Rescuers freed a man trapped in his vehicle in western Tennessee after a tree fell on it during thunderstorms, Memphis firefighters said.
Memphis authorities say they've received reports of power lines and trees down, but there have been no injuries.
Tornadoes killed 13 people in Arkansas on Feb. 5, and another seven were killed in an outbreak May 2. In between was freezing weather, persistent rain and river flooding that damaged residences has slowed farmers in their planting.
---
Associated Press writers Murray Evans in Oklahoma City and Chuck Bartels in Little Rock, Ark., contributed to this report.