Marine researchers Charles Moore and Marcus Eriksen surveyed the dark water of the Pacific Ocean aboard a catamaran about 700 miles (1,126 kilometers) north of Hawaii in January and found trash everywhere.
They were in the eye of the North Pacific subtropical gyre, where opposing ocean currents form a vortex bigger than Australia, trapping tons of floating debris in its circular flow.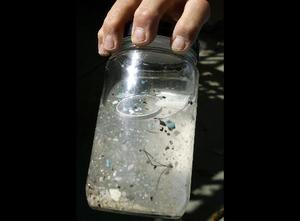 ©Bloomberg
Trash that wound up there used to decompose. Now, with 403 billion pounds of plastic produced annually, according to the Houston-based consulting group Chemical Markets Associates Inc., areas of the gyre have turned into a soup of indigestible shards that can break down to the size of plankton and be mistaken for food, endangering millions of fish and birds.
''No matter where we go, we find plastic,'' said Moore, 60. ''The ocean is now this plastic soup, and we just don't know what that's doing.''
Marine debris worldwide kills more than 1 million sea birds and 100,000 mammals each year, according to the U.S. National Oceanic and Atmospheric Association. The chemical-laden materials have been found in the stomachs of dead fish and birds.
''We know that these plastics can carry high levels of toxins that they collect as they float,'' said Eriksen, 40, an oceanographer with Moore at the nonprofit Algalita Marine Research Foundation in Long Beach, California. ''The next step is to see if it bio-accumulates up the food chain onto your dinner plate.''
No clean-up efforts are under way, according to the NOAA and researchers. Moore and Eriksen said such an endeavor wouldn't be feasible because of the distance from land. The oceanographic agency has focused on removing derelict fishing gear threatening marine mammals and corals. The plastic industry is funding litter-reduction efforts.
Garbage Patch
The gyre isn't a solid floating trash heap visible from the air, Moore said. Instead, billions of tiny plastic scraps bob on the water's surface along with occasional larger pieces like fishing gear, wood, bottles, toothbrushes and cigarette lighters. Ocean sampling shows that there are as many as 1 million plastic pieces, each 1 to 2 millimeters across, in each square kilometer (0.4 square mile) in the area, Moore says.
The vortex covers about 10 million square miles north of the equator, rotating clockwise from about 300 miles off California's coast to near Japan. It's the result of prevailing winds that move west to east on the northern side and in the opposite direction to the south.
Though a comprehensive study on the garbage patch's size hasn't been conducted, Moore estimates debris accumulates in about half the gyre, mostly in separate swirls in the east and west. The highest concentrations are near Hawaii, he said.
Moore discovered the garbage patch in 1997. He was testing his boat's engine by traveling through an area of the Pacific known for its calm winds. For days, he saw plastic shards glistening in the flat ocean 1,000 miles from the nearest port.
'No End Game'
In January, Moore, Eriksen and other researchers boarded a 25-ton, aluminum-hull catamaran for a monthlong trip to the gyre. The concentration of debris increased to 0.01 grams of plastic in each square meter of water from 0.002 grams in 1999, Eriksen said.
''Every product now is expected to be wrapped in plastic, and there is no take-back infrastructure for that packaging,'' Moore said. ''This lubricant of globalization has no end game. There's no after-life for it and since the ocean is downhill from everywhere, that's where it ends up.''
The United Nations in 2006 estimated that each square mile of ocean carries 46,000 pieces of debris. Water samples of the garbage patches show six times as much plastic as plankton, Moore said. He will receive an award from the U.S. Environmental Protection Agency for his research on marine debris on April 14 in San Francisco.
Plastic Production
U.S. plastic production surged four-fold to 113 billion pounds in 2006 from 29 billion in 1973, according to the Washington-based American Chemistry Council, an industry trade group. There is no correlation between plastic production and marine debris, said Sharon Kneiss, vice president of the organization.
''Plastics don't belong in the ocean; they don't belong in the roadway; they belong in the recycling bin,'' Kneiss said. ''Yes, there are plastics and other debris in the gyre. It is a problem that we're concerned about.''
About 80 percent of ocean trash starts on land and is carried along by wind, rivers and storm drains, according to the UN. Water bottles discarded in Tokyo or beach toys thrown out in San Diego wind up in the whirlpools after breaking down into smaller pieces along the way.
Threat to Hawaii
About 600 tons of industrial fishing gear washed up on Northwestern Hawaiian Islands in the past decade, threatening the Hawaiian monk seal, the most endangered U.S. marine mammal, according to the U.S. Fish and Wildlife Service.
Climate change and marine debris are the most serious threats to the islands' ocean habitats, said Rusty Brainard, head of coral reef ecosystem research at the NOAA.
''All the plastic is unbelievable,'' said Brainard, 49. ''These are places that are uninhabited, thousands of miles from where anybody lives, and yet they are just covered in human trash.''