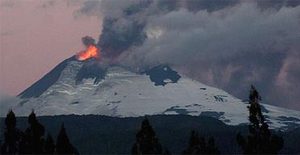 ©EPA
A view of the Llaima volcano in the La Araucania region of southern Chile.
Hundreds of residents fled their homes and spent the night out in the open after a volcano in southern Chile erupted, spewing lava and ash.
The director of the government's emergency bureau, Carmen Fernandez, today said that a state of alert remained in the area of the Llaima volcano 650km (400 miles) south of Santiago, but that no mass evacuation was yet necessary.
Yesterday, authorities evacuated 150 tourists and employees of the National Forest Service from Conguillio National Park, where the volcano is situated.
Fernandez said 53 people remained stranded in the park and authorities were preparing to evacuate them by helicopter.
Hundreds of people in the town of Melipeuco, the closest to the volcano, left their homes and spent the night in the open or at two shelters opened by authorities as a series of strong explosions from the volcano rocked the area during the night.
But Fernandez insisted that a massive evacuation was not planned as it did not yet appear necessary.
"There are no signs yet of an increased risk," Fernandez said. "There is some flow of lava, but not in a continued manner yet."
"A number of buses and army trucks have already been sent and are ready in case a decision is made to order a massive evacuation in Melipeuco," where some 5,000 people live, she said.
Melipeuco is 12km from the 3,120m (9,300ft) volcano. Llaima, one of the most active among Chile's dozens of volcanoes, last erupted in May, but has not had a major blast since 1999.