Polls may show George W. Bush as the most unpopular president in modern history, but a different kind of measurement shows he's the most popular president ever for selling calendars.
As the Bush presidency winds down, the
Bush Out of Office Countdown 2008
desk calendar ($11.99) is winding up as the No. 2 humor calendar (behind
The Far Side Scared Silly 2008 Wall Calendar
) for the new year, according to Calendars.com, the largest purveyor of calendars online and at retail kiosks.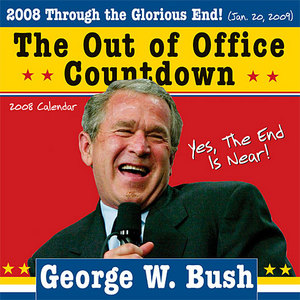 ©Hillel Levin
As the Bush presidency winds down, the Bush Out of Office Countdown 2008 desk calendar is just winding up.
"They're edgy and a way to mark the days, so it's a perfect tie-in," says Hillel Levin, general manager at Calendars.com. "The intensity of dislike (for Bush) is driving these sales."
These poking-fun-at-the-prez calendars were popular last year, but they're even bigger for 2008 - and there are more of them than ever.
"It's become a category unto itself," Levin says. There were no such calendars for other recent presidents - say, Bill Clinton or Bush's father, George H.W. Bush. "This is a new phenomenon."
They include the "Bushism-per-day" calendars, popular with both admirers and critics. "Even people who like him love the way he mangled the language," Levin says.
Other calendar trends for 2008:
- A recent survey found that women are more likely than men to use paper calendars.
"Even if women use an electronic planner, most are supplementing it with paper calendars and lists to stay on top of all of their tasks," says Nina Korelitz Matza, co-owner of survey sponsor Whomi, a time-management paper accessories brand.
- Maybe not coincidentally, "Mom" organizer calendars remain strong sellers:
More Time Moms Family Organizer 2008 Pocket Wall Calendar
($14.99) was No. 1 Wednesday on Calendars.com.
"This type is top in the continuing-trends category," Levin says.
- For something really new:
Men on a Mission
($14.99), the first-ever Mormon beefcake calendar, featuring steamy shots of 12 bare-chested men who have served as Mormon missionaries.
It's a tongue-in-cheek celebration of missionary selflessness, says Chad Hardy, founder of Mormons Exposed, a Las Vegas-based group trying to overturn those buttoned-up stereotypes about Mormons. (The calendar is available at menonamissioncalendar.com and at Calendar Club kiosks.)
- Pop-culture star:
TV's The Office comedy-satire
, immortalized as
The Office Sticky Notes 2008
desk calendar ($11.99).
- New breakout seller: The tween heroine Hannah Montana, whose 2008 wall calendar ($13.99) is so popular that it's sold out.
- Taking off:
World of Warcraft
desk and wall calendars ($13.99, $12.99), based on the Internet fantasy game, and Halo wall calendar ($11.99 ), based on the video game.
- Other top 10 regulars: puppies and cats, mall artist Thomas Kinkade and art photographer Ansel Adams, and the
Sports Illustrated Swimsuit
calendar ($15.99).