Five-metre high waves smashed a Russian tanker in half on Sunday, spilling 1,300 tonnes of fuel oil into the Kerch Strait between Russia and Ukraine and sank two other cargo ships, officials said.
Two vessels each carrying some 2,000 tonnes of sulphur went under nearby and eight crew members were reportedly missing amid worsening weather in waters between the Black Sea and the Sea of Azov.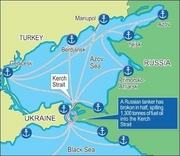 ©AFP
Five-metre high waves have sunk three ships in the Kerch Strait. A Russian oil tanker was smashed in half causing it to spill 1,300 tonnes of fuel oil into the strait that divides Russia and Ukraine.
As wind speeds in the area reached 108-kilometre (67-mile) per hour, several other ships were also reported damaged in and around Kavkaz, a busy Russian commercial port some 1,200 kilometres (746 miles) south of Moscow.
A total of 42 vessels have been evacuated from the port and 17 others have remained because of the risky weather conditions, Russian news agencies reported, citing a spokesman for the Emergency Situations Ministry.
There have been no reports of any deaths or injuries.
"This is a serious environmental accident that will require a large amount of work," Oleg Mitvol, head of Russia's environmental monitoring agency Rosprirodnadzor, said on the Vesti-24 news channel.
"This problem may take a few years to solve. Fuel oil is a heavy substance and it is now sinking to the seabed," he said.
"Five-metre high waves just broke the tanker in two," he added.
The prow and the stern of the oil tanker, called Volgoneft-139, tore apart in the storm and "around 1,300 tonnes of fuel oil were spilled," a transport ministry spokeswoman told
AFP
.
Rescue efforts were being hampered by the harsh weather conditions but the lives of the 11 crew members stranded in the stern of the tanker were not in danger, the spokeswoman said.
Sunday's spill is however marginal when compared to the Prestige disaster off the Spanish coast five years ago.
On November 19, 2002, the Liberian oil tanker Prestige broke up and sank off Galicia in northwestern Spain, spewing out 64,000 tonnes of thick, heavy fuel oil into the waters and fouling thousands of kilometres (miles) along the Atlantic coast of France, Spain and Portugal.
Following Sunday's disaster, Russia and Ukraine have set up a joint crisis centre to deal with the situation and a plane and a helicopter were on standby to fly to the area as soon as the weather allows.
Ukraine's maritime agency said one ship had sunk off the Black Sea coast with 17 crew members aboard and officials said all the country's ports have been put on a heightened state of alert.
Russian television reported that the spill from the Vologoneft-139 tanker, which was carrying 4,000 tonnes of fuel oil, was continuing and that the accident happened in Ukrainian waters.
Local prosecutors were looking into possible criminal charges for the spill.
The tanker was carrying fuel oil from the southern Russian city of Samara on the Volga River to an oil terminal in Ukraine, agency reports quoted a Russian official as saying.