A storm in the North Sea forced the closure Thursday of oil platforms off the Norwegian coast as well as Europe's largest port as British forecasters warned of the worst swells in 20 years.
Authorities in Rotterdam announced they planned to close the giant barrier that guards access to the Dutch port for the first time since its construction in the 1990s, shutting off sea traffic until at least 0500 GMT on Friday.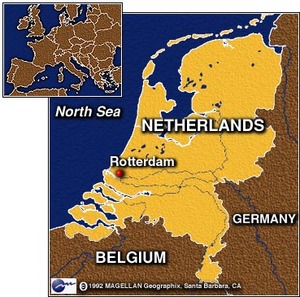 ©MAGELLAN Geographix
The Netherlands also stepped up surveillance of all the seawalls along its coast for the first time since 1976. One third of the Dutch land mass is below sea level.
In Britain, Prime Minister Gordon Brown chaired a meeting of the government's emergency response cell after a series of flood warnings were issued across eastern England which looks onto the North Sea.
Britain's Met Office warned of gusts of up to 90 miles (145 kilometres) per hour for the Orkney and Shetland islands off northern Scotland, and said the combination of high tides and strong winds could play havoc further south.
"The height of the surge we are expecting on Friday morning happens around once every 20 years or so," said Stewart Wortley, the head of storm tide forecasting.
Addressing the House of Commons, Environment Secretary Hilary Benn said police would be on standby in areas most at risk, and said the threat would peak Friday but could last for 48 hours.
In all, six severe flood warnings were issued in the Anglian region northeast of London, with three flood warnings in place for the northeast English coast.
Flood warnings were also issued in Germany, around the Elbe and Ems rivers.
The impending storm had already dealt a blow to Norwegian oil production which was expected to be cut by 10 percent, or 220,000 barrels per day, after Britain's BP closed its Valhall platform and US firm ConocoPhillips announced it was shutting down five platforms in the Ekofisk oilfield.
The closures come as the price of a barrel of oil hovered around record highs of 95-96 dollars a barrel on international markets.
Forecasters and oil company officials said they expected the situation to improve quickly after the main impact of the storm overnight, but a BP spokesman said the Valhall platform would be out of action "for a few days".
"The weather outlook for Friday looks slightly better," ConocoPhillips spokesman in Norway Stig Kvendseth told
AFP
. "It won't take us long to get started again."
The Ekofisk field normally produces 140,000 bpd.
BP evacuated a group of its workers from the Valhall platform, which totally suspended its 80,000 bpd production.
Norway is the world's fifth largest exporter of crude. In September it produced 2.179 million barrels per day.