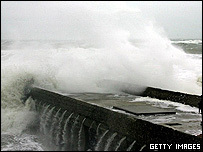 ©Getty Images
Residents have been warned to watch the weather and tides
A tidal surge in the North Sea has sparked severe flood warnings and evacuations on England's east coast.
Prime Minister Gordon Brown has held an emergency Cobra committee meeting and the Environment Agency has warned of "extreme danger to life and property".
Low pressure and strong winds are causing the surge. Norfolk and Suffolk have eight severe flood warnings.
About 200 people in Norfolk have been moved. Parts of Kent, Essex, North Yorks and Lincs are also on alert.
Dartford Creek and Thames barriers were due to close on Thursday.
Norfolk Police, Norfolk County Council and Great Yarmouth Borough Council evacuated people from care homes and hospitals.
Two rest centres have been set up in Norfolk, as more people could be brought in during the night.
Residents in low-lying areas of the Suffolk coast were advised to leave their homes as up to 1,300 properties could be affected there.
A Suffolk Police spokeswoman said: "Those most likely to be vulnerable to flooding should leave their properties and seek shelter with friends and family outside the affected area if possible."
Leisure centres in Lowestoft and Leiston, as well as Beccles Public Hall, are being used as rest centres.
In Great Yarmouth, Norfolk, sandbags were being prepared for homes and businesses.
'Gravely concerned'
The flood alerts are a response to weather and tide patterns being tracked this week by the Environment Agency and the Met Office.
Wind speeds exceeding 50mph (80km/h) are predicted, with the storm surge expected to peak at about 0430 GMT around Immingham, near Grimsby, and then at 0700 GMT on the East Anglian coast.
In a brief Commons statement on Thursday afternoon, Environment Secretary Hilary Benn said:
"A tidal surge of up to 3m [10ft] is making its way down the North Sea which could coincide with peak high tides.
"There is a risk of flood defences being over-topped on the coast and in tidal rivers, especially in East Anglia, particularly the Norfolk Broads and the coast south of Great Yarmouth including Lowestoft, and areas south of this as far as the coast of Kent."
Senior Whitehall officials convened a meeting of Cobra, the government's emergency committee, at 1600 GMT, which was then followed by the prime minister chairing a second meeting just before 1900 GMT.

Threat to England and Wales
The North Sea conditions were also causing problems for the authorities in the Netherlands on Thursday.
Coastal flood defences were put on alert, with the harbour in Rotterdam set to be closed off by a storm surge barrier.
The Environment Agency's Simon Hughes said of the situation in eastern England: "We're watching it very closely and we're gravely concerned about the scope for some serious flooding."
BBC weather forecaster Carol Kirkwood said "particularly high tides" were exacerbating the situation.
She explained: "We've had gales down the North Sea today, they'll continue for at least the next 24 hours, pushing the water down in the direction of East Anglia.
"It's going to be combining with at least two tidal cycles which is what is going to cause the risk of severe flooding problems."
There are eight severe flood warnings, 10 flood warnings and 24 flood watches nationally, covering North Yorkshire, Lincolnshire, Norfolk, Suffolk, Essex and the north Kent coast.
The severe warnings in place from Great Yarmouth down to Shingle Street, and on parts of the River Bure, River Yare and River Waveney, carry an Environment Agency alert stating: "Severe flooding is expected. There is extreme danger to life and property. Act now."
Localised flooding
From the north Kent coast around to Sandwich and Deal, people were being asked to keep an eye on the weather and tides.
The impact there was expected to be less severe - with predicted tides 1.5m (5ft) above average - but there is still a risk of localised flooding.
The Environment Agency said it had put Dover District Council on alert that any cars parked at Sandwich Quay could be damaged.
Chief executive Barbara Young said: "We have already made more than 12,500 calls direct to individuals affected through our Flood Warnings Direct system.
"It's also a good idea to check on elderly relatives and neighbours to see if they are OK."
The Thames Barrier was last raised to regulate the tides on 20 March this year.
The Environment Agency's Andy Batchelor said: "Our 24-hour control room constantly monitors weather situations further up the coast and currently the forecast levels require us to close the Thames Barrier to allow it to perform its role and prevent flooding in the capital.
"This is a standard procedure for us when a tidal surge comes up the Thames combined with high flows in the river."
The Environment Agency, Met Office, emergency services and council planners will be constantly assessing the tidal and storm situation in all the affected areas.

Large parts of Lincolnshire, Norfolk, Suffolk, Essex and Kent were left under water in 1953, and 307 people died, when high tides and a storm saw a tidal surge of 3.2m (10ft 6in).
The Environment Agency said it was "much better prepared now", but the Met Office added that it was predicting the highest tide since 1983 in Felixstowe, Suffolk.
For more information on flood risks call the Environment Agency's Floodline on 08459 881188.