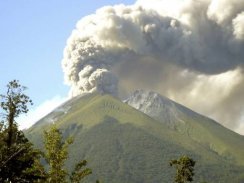 ©n/a
Mount Soputan volcano on the northern tip of Indonesia's Sulawesi island has erupted, throwing columns of ash 1,000 metres (3,300 ft) into the air, an official said on Friday. Saut Simatupang, of Indonesia's Centre for Volcanology and Geological Hazard Mitigation, said that the eruption did not appear to pose an immediate threat to residents, although ash had reached the nearest town.
"From the data that we have, it is only spraying ash without other volcanic material," he said by telephone. "It is not so dangerous but we suggest people wear a mask so they will not suffer from respiratory problems."
The nearest village to Soputan, 2,175 km (1,351 miles) northeast of the capital Jakarta, is located 11 km from its crater. In August, Soputan also spewed ash and rocks, although Simatupang said that a few days ago the volcano was calm.
A local official said that no evacuation had been ordered.
"The eruption was weak, only sending out volcanic ash and the wind blew to the south while we are in the western part of the mountain," said Ramai Luntungan.
He said that two villages near the mountain, with 1,000 people in each, were not in danger as they were protected by the lie of the land, but that masks would be distributed.
"Based on our experiences, we will only be showered by ash, so we didn't need to evacuate."
Last week, authorities evacuated residents living within a 10-km (6-mile) zone around Mount Kelud volcano in eastern Java after warning it was liable to erupt.
The order to evacuate more than 100,000 people was made after officials declared a maximum alert at the volcano, just 90 km (55 miles) southwest of Surabaya, Indonesia's second-largest city.
Indonesia has the highest number of active volcanoes in any country, sitting on a belt of intense volcanic and seismic activity known as the "Pacific Ring of Fire".