Madurai, India - A high-level medical team from the Institute of Child Health (ICH), Chennai, will be here on Thursday to investigate the mysterious 'tongue blisters' that have claimed the lives of two children at O. Alangulam, about 20 km from here.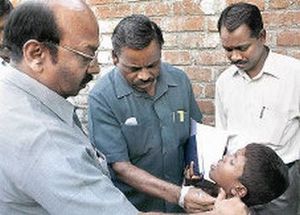 ©K. Ganesan
EXAMINATION: P. Padmanaban (left), Director of Public Health, looking at an affected boy at O. Alangulam near Madurai on Wednesday.
While two died of fever and blisters two days ago, a few other affected children of five to 10 years of age are being administered treatment by health authorities.
The Director of Public Health and Preventive Medicine, P. Padmanaban, along with officials, visited O. Alangulam and Periyalangulam on Wednesday and enquired about the symptoms from villagers. "I have asked the ICH Director to visit the villages and conduct an epidemiological analysis of the blisters. A team of microbiologists will carry out a detailed investigation," Dr. Padmanaban told The Hindu after visiting the houses of the affected persons.
He said no conclusion of whether it was chicken pox or viral fever could be made now because 'platelet count' would be done by sending blood samples to laboratories. Entomologists collected serum samples, according to R. Varadarajan, District Malaria Officer.