The North Coast and in particular Lismore is busy cleaning up today after a super cell storm hit the region yesterday. Heavy rain, golf size hailstones and wind gusts of more than 80 km per hour had enough force to smash the windows of cars, houses and businesses.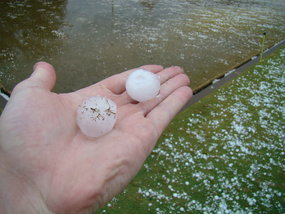 ©Jonathan Atkins
North Coast hailstorm
The storm struck at about 1:50pm on Tuesday 9 October damaging Lismore Base Hospital, the ambulance centre, and some minor, schools, churches and the City Hall.
The North Coast Area Health Service had around 20 presentations at the Lismore emergency department with just minor cuts and bruises. The SES are warning people not go up on their roof after 2 people fell while repairing the roof of their homes.
The Richmond Tweed SES has had almost 400 calls for assistance, mostly from Lismore, also Mullumbimby, Casino and Banora Point. People are being asked by the SES to be patient and use the correct number and only call 000 in a life threatening situation. Calls for assistance will be dealt with in order of priority. Extra SES crews will be brought in from outside the region to help with the clean up.
The state Emergency Services Minister, Nathan Rees, will be in Lismore later this morning to inspect the damage done by yesterday's storm and is almost certain to declare it a natural disaster area.
Unit Controller for the Coffs Harbour City SES, Walter Mulholland, says we could see more freak storms between now and Christmas because of the predicted weather conditions. Lismore Unit Controller Lindsay Matterson says is the second worst storm he's seen in the region.
The State Emergency Service advises that people should:
* Move your car under cover or away from trees.
* Secure or put away loose items around your house, yard and balcony.
* Keep clear of fallen power lines.
* Keep clear of creeks and storm drains.
* Don't walk, ride your bike or drive through flood water.
* Unplug computers and appliances.
* Avoid using the phone during the storm.
* Stay indoors away from windows, and keep children and pets indoors as well.