Typhoon Lekima smashed into central Vietnam overnight, flooding thousands of homes, disrupting air travel and leaving at least three people dead and 58 injured, officials said Thursday.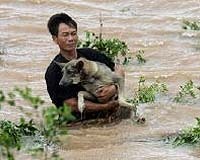 ©n/a
Packing maximum sustained winds of 117 kilometres (72 miles) an hour, the typhoon made landfall in provinces where tens of thousands of people had been evacuated in advance.
Two people drowned and a 13-year-old boy perished while trying to anchor fishing boats, the Hanoi-based flood and storm control committee said in a statement. Disaster officials had said a man was killed while tightening a roof before the storm, but he was not counted in their typhoon toll.
At least 58 people had been injured in Ha Tinh and Quang Binh provinces, which were the epicentre of the typhoon. They were all in a stable condition, provincial disaster officials said.
"As we had well prepared, the losses have been minimised," Deputy Prime Minister Hoang Trung Hai told journalists in Ha Tinh province.
"Our task now is to update any further human losses, help people stabilise their lives, restore houses, give them food."
The typhoon's epicentre hit a district of vast rice fields, meaning "human loss and injuries were limited," Bui Le Bac, head of a provincial flood and storm control committee, told AFP.
But major losses were reported in power and communications systems, as well as to the agriculture and fishing industries, said Minister of Agriculture Cao Duc Phat.
The north-south highway was flooded with water, but vehicles could still move normally despite local authorities' warning that people should not leave their shelters for fears of being hit by fallen trees and power poles.
Local authorities have also been urged to proceed with measures to cope with flooding and possible landslides, said Dang Quang Tinh, a national disaster official in the online report released from Hanoi.
On Wednesday, more than 84,000 people were evacuated from high-risk areas. Officials had earlier said they had begun evacuating about 200,000 people but that was lowered as the typhoon changed direction.
Authorities canceled or postponed scores of domestic flights, the Tuoi Tre daily reported. Classes were also suspended in several towns with schools used as temporary shelters for local residents.
Over the weekend, Lekima -- then classed as a tropical storm -- left nine people dead, one missing and another injured in the Philippines.
Weather forecasters said the typhoon should drop in intensity by the time it reaches Laos later Thursday.