Weathermen in Taiwan on Thursday urged ships and residents to take precautions against Typhoon Krosa which is gaining momentum and heading towards the island.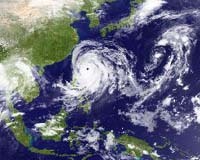 ©n/a
"Typhoon Krosa is gaining strength and expanding its radius while approaching Taiwan," the official Central Weather Bureau said in its first warning of the typhoon at 5:30 pm (0930 GMT.)
It called on ships sailing off Taiwan to heighten vigilance while shuttle ferry services between Taiwan and several offshore islets were suspended.
The scheduled rehearsal of National Day celebrations, including the first military parade in 16 years, will also be postponed from Sunday to Monday, the government spokesman's office said. The National Day falls on Wednesday.
With a radius of 250 kilometres (155 miles,) Krosa, meaning crane in Khmer, was 690 kilometres east-southeast off Oluanpi, the southernmost tip of the island, at 5:30 pm.
Packing winds gusting up to 173 kilometres per hour, it was moving northwest at a speed of 15 kilometres an hour.