Wild weather moved through Western New York Friday, producing a waterspout over downtown Buffalo and penny-sized hail over Southern Erie County.
This photo of a waterspout over downtown Buffalo was taken around 11:50 am Friday from the WNED studios near the I-190.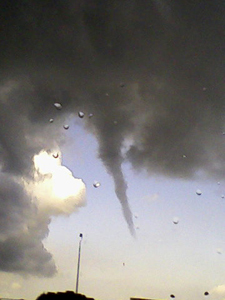 ©Terry Gaffney, WNED
Forecasters at the National Weather Service in Buffalo say waterspouts form when cold unstable air moves over the warm waters of Lake Erie.
The waterspout quickly dissipated as it moved over land.
Earlier Friday, penny-sized hail was reported in the Town of Boston as heavy thunderstorms moved through the area.
No damage was reported.