The biggest one-day deluge to hit Pahrump in years caused washouts in numerous locations, with a few streets still closed this week.
National Weather Service observer Ren Glover reported 2.7 inches Friday, which is the official total. That brings the yearly rainfall total to 3.15 inches, almost up to the 3.64-inch average annual rainfall for Pahrump through Sept. 30.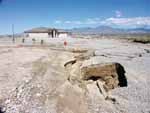 ©Mark Waite / PVT
The rain apparently caused a significant sinkholes that closed Parkridge Avenue off Hacienda Street.
"I don't recall ever having that much in a 24-hour period," Glover said, a weather observer in Pahrump for over 10 years.
Nye County Road Foreman Dave Fanning called an emergency meeting Saturday afternoon attended by representatives of the Nye County sheriff's department, Nye County Commission Chairman Gary Hollis, Pahrump Fire Chief Scott Lewis, Nye County School District Transportation Director Cameron McRae and Nye County Emergency Services Director Brent Jones. County officials discussed problems getting town residents to work and school.
"Obviously we can't get a lot of this taken care of until the water runs off," Fanning said.
A block of Park Ridge Avenue off Hacienda Street was closed due to a large sinkhole in a neighborhood near Homestead Road and Highway 160, which has experienced bad soil problems.
One lane of Upland Avenue near Comstock Drive was closed after part of the road collapsed. Nye County road crews were working on the street Monday.
Harris Farm Road was closed west of Linda Street, Fanning said.
Fanning said Hollis received a lot of calls about flooding around Charleston Park Avenue and Warren Street on the far west side.
Big pools of water collected in many of the usual places, like Pahrump Valley Boulevard just north of its intersection of Highway 372, Hafen Ranch Road and CAAS Road at the entrance to the Mountain Falls subdivision, Dandelion Road near Honeysuckle Park and at numerous intersections along West Bell Vista Avenue to name a few.
Parts of the Pahrump valley experienced a brief power outage about 4:20 p.m. Friday.
At one point late Friday afternoon, the National Weather Service issued a flood advisory for neighborhoods near Wheeler Wash.
The Desert Research Institute monitoring stations reported 2.07 inches of rain fell in Amargosa Valley Friday, 1.51 inches in Beatty, 0.9 inches in Tonopah and 0.78 inches in Goldfield. Shoshone, Calif., picked up 2.18 inches Friday and another 0.33 inches Saturday, the DRI reported.
The heavy rain forced the cancellation of the Chubby Checker concert at Terrible's Lakeside Concert Amphitheater Friday night and put a damper on numerous other outdoor events.
The heavy rain made a dent in the drought, however. Until Friday, Pahrump had only experienced 0.45 inches of precipitation this year. The last measurable rain was 0.13 inch Aug. 27.
The U.S. Bureau of Land Management lifted fire restrictions on BLM land, National Park Service land and U.S. Forest Service land, including the Spring Mountains National Recreation Area effective yesterday as the fire danger eased from extreme to moderate. A pretty cap of snow was even evident on Mount Charleston this early in the season.
The National Weather Service forecast for the rest of the week calls for near perfect weather, with highs in the mid 80s and overnight lows in the mid 50s.