Tropical Storm Lorenzo, forecast to become a hurricane before slamming into Mexico, dumped heavy rain on the country's Gulf coast on Thursday but was unlikely to affect oil production.
Lorenzo will probably make landfall in the early hours of on Friday in the coffee-growing state of Veracruz. It had wind speeds of near 70 mph (110 kph), with higher gusts.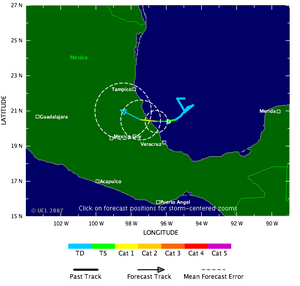 ©TSR
"Some additional strengthening is forecast," the U.S. National Hurricane Center said. "Lorenzo is expected to reach the coast of Mexico as a hurricane."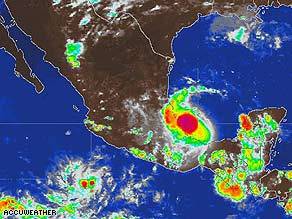 ©Accuweather
The 7:15 p.m. ET sattelite image of Tropical Storm Lorenzo.
Employees of hotels in the Veracruz towns of Nautla and Tuxpan told Reuters by telephone that it was already raining heavily and authorities warned locals of worse weather to come. It was raining hard as far inland as Mexico City.
Oil ports in the Mexican part of the Gulf were all open to shipping, although some reported sea swells of up to three feet (one meter). The ports are to the east of where Lorenzo is expected to make landfall.
Mexico's state oil firm Pemex has seen no impact on its oil installations from the storm and is not planning emergency measures, a company official said.
Another tropical storm, Karen, has weakened since Wednesday as it churned through the Atlantic on Thursday 845 miles_(1,360 km) east of the Windward Islands. It is expected to lose more strength as it moves northwest, missing the Caribbean.
The 2007 Atlantic storm season has generated three hurricanes so far, including Hurricane Humberto, which startled coastal residents of Texas and Louisiana in mid-September by unexpectedly strengthening into a hurricane before landfall, and two ferocious maximum-strength Category 5 hurricanes.
One of the Category 5 hurricanes, Dean, swiped Jamaica and then plowed into Mexico's Yucatan Peninsula, killing at least 27 people. The other, Felix, tore into Central America, leaving at least 130 dead in Nicaragua.