Helicopter pilot Harvey Hutton, who knows Mount Aspiring National Park well, said he was completing a venison recovery operation about 7.30am yesterday when he discovered half a mountainside had collapsed and a lake had formed behind the slip.
"It's the first major one (slip) I've seen and probably the biggest in my lifetime," Hutton said.
He believed the lake was at least 50m deep and would need to be filled a bit more before it overflowed.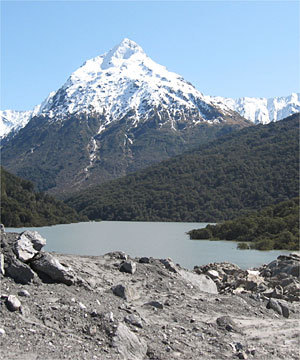 ©DOC
A massive slip in Mount Aspiring National Park has created a new lake, thought to be about 2km long and at least at least 50m deep.
Hutton contacted the Department of Conservation and flew staff and a geologist back into the area to view the slip.
Debris has completely dammed the North Branch of the Young River, 3km upstream of the confluence with the South Branch.
The slip came off what is known locally as Haunted Spur.
The slip started at 1500m and travelled about 900m to the valley floor.
The dam it created is thought to be up to 70m high and the water backing up behind it is currently 30m below the top.
The still-rising lake is now estimated to be 2km in length and 500m at its widest point. The North Branch of the Young below the obstruction is currently dry.
DOC staff and an independent geologist, Geoff Bryant, of Alexandra, flew in to the Young late morning and came out mid-afternoon.
Bryant said the dam was made up of massive rocks and that the water would settle and eventually flow over the top.
Because of the size of the rocks in the obstruction he doubted that there would be a catastrophic failure.
Lying below the obstruction is a swing bridge and some 9km of a popular tramping track, part of the Gillespie Pass Circuit.
This is a three to four-day tramp that connects the Young and Wilkin valleys.
DOC staff have checked the track's intention book and are confident no-one is in the area.
DOC's Wanaka area manager, Paul Hellebrekers, said warning signs had been erected at the track entrances, in all the huts and visitor centres.
"We strongly advise that people stay well away and not travel in the Young at present."