Forest fires raged unabated today on the Peloponnese peninsula of southern Greece, killing at least 51 people as flames threatened historic sites including Ancient Olympia.
"We are dealing with a national catastrophe, without precedent," said Niakalaos Diamantis, a fire service spokesman.
The Greek Health Ministry announced this morning that the death toll had climbed past 50, putting it among the world's deadliest forest fires of modern times.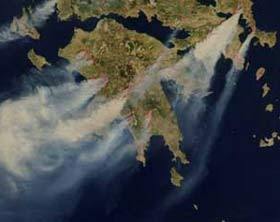 ©AP
Fires in Greece as captured by NASA satelite
Greece declared a state of emergency yesterday as towering walls of flame cut a swathe of destruction through the Peloponnese and other areas of the country. The fires have bathed Athens in white ash, forced thousands to flee their villages and burned about 500 homes and thousands of acres of forest and farmland.
Among the dead have been holidaymakers and a mother and child whose charred bodies were found locked in a final embrace. Police yesterday arrested a 65-year-old man and charged him with arson and multiple murder.
This morning, authorities evacuated several villages around Ancient Olympia, the birthplace of the Olympic Games, although Olympia's mayor, Giorgos Aidonis said this morning that the the site was no longer in imminent peril. "We are among the lucky," he said. "Ancient Olympia is not in danger at the moment."
The site boasts ruins of the stadium and pagan temples that hosted the ancient games for several centuries from 776 BC and is still the venue for the lighting of the modern Olympic torch.
Fires have also broken out on Euboea, the second-largest Greek island, north of Athens, where several seaside resorts have been evacuated. n all some 40 villages have been evacuated in the Peloponnese and on Euboea and firefighters were preparing to evacuate others.
Those fleeing the flames have sought refuge on the country's beaches where the authorities are providing tents for temporary shelter, and financial aid and new lodgings have been promised.
More than 1,000 firemen backed by 425 soldiers and 16 water-dropping aircraft are waging the battle against the fires, which have swept through thousands of hectares destroying homes and ravaging crops and olive groves. No official figures were yet available.
"It's chaos. Generations of work have gone up in smoke," said Vassilis Viglas, 65, who had returned to the now devastated village of Artemida for the summer.
Firefighters were hopeful, however, of getting some control now that the strong winds which had fanned the flames have subsided somewhat, and aircraft support has arrived from other European countries, officials said.
Four Canadair water-bombers and some 60 French firefighters were expected to join the operation Sunday as well as an Italian aircraft.
Costas Karamanlis, the Prime Minister, said in a message to the nation yesterday that action was being was taken "to mobilise all means and all forces" to put out the fires and help those affected.
He pointed the finger at arsonists for starting the fires in areas hit hard by summer droughts and multiple heatwaves, and said that his Government would "do everything in its power to find and punish those responsible".
Due to the devastating death toll, Greece's political opposition has refrained from criticising the effectiveness of the government in dealing with the crisis - even as the country prepares for legislative elections on September 16.
The Greek forest fires are among the worst in the past century and a half. In May 1987, a forest fire in China left at least 119 people dead in the northeast of the country, 102 injured and 51,000 homeless.
In August 1949, 82 firefighters, volunteers and soldiers were killed while they were battling a blaze in the Landes region of southwest France when the wind suddenly changed direction and intensity.
The worst fire in recent history remains one in 1871 in Peshtigo, the US state of Wisconsin, which left an estimated 800 to 1,200 people dead.
Update! 44 killed as wildfires ravage Greece - Premier declares state of emergency and points to arson
August 26, 2007
Athens News Agency
Greek Prime Minister Costas Karamanlis on Saturday pointed directly to arson as a behind an unprecedented wave of wildfires that have ravaged the country, particularly the southern Peloponnese, speaking during a brief nationally televised address on Saturday evening, where he also declared a 'state of emergency' in the east Mediterranean country.
"I am angered, as are all Greeks, by the fact that so many wildfires occurred in so many different parts, this is not a coincidence," Karamanlis stressed, while calling on citizens to be vigilant and to aid efforts at containing the blazes.
Karamanlis spoke as the official death toll from the intense wildfires rose to 44, although an undetermined number of missing individuals is expected to generate more victims.
Additionally, the prime minister listed off a series of measures to aid fire-stricken areas and families affected by the disaster, including the families of victims.
At one point, Karamanlis referred to the "heart-felt grief" he feels for a mother discovered clutching her children, victims of a wildfire near Zaharo, in the western Peloponnese.