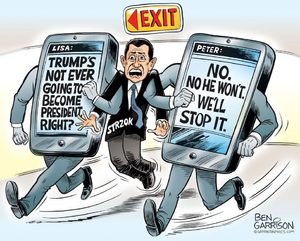 Strzok has left the building
Mystery creates wonder, and wonder is the basis for man's desire to understand. Who knows what mysteries will be solved in our lifetime, and what new riddles will become the challenge of the new generations.
- John Keel
Recent Comments
The world should be worried. This is a dangerously psychopathic governmental mafia that consider themselves above international law & human...
---
They subtracted CAN from Extraversion to get results, as the Hare checklist is too "costly". Cool, I guess, but remember being messy, happy and...
---
"Cleese lauded the merits of the show in a series of tweets in response to comments made by the controller of BBC comedy Mark Allen." The guy's...
---
It seems that the US doesn't want to "trade" with anybody. It would much rather destroy a country, install a puppet dictator and go in and steal...
---
considering that it has existed for over 2000 years. it would be well and good if the people could define the meaning of this innocuous word......