Now you see it. Now you don't.
George W Bush was visibly cheered when he received a hero's welcome in Albania at the weekend, with Albanians draped in the Stars and Stripes reaching out to hug him and shake his hand.
But perhaps the leader of the Western world should have exercised a little more caution and followed the standard advice to travellers in the Balkans to keep an eye on their belongings.
Film footage of the President being mobbed taken by the Albanian TV station News24 was broadcast today on Italian TV news bulletins and watched by thousands on
YouTube
- and it looks like Mr Bush may have had his watch stolen.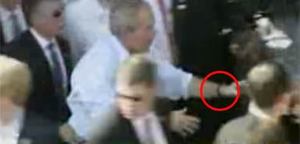 ©unk
Pic 1: Here today. George Bush works the crowd in Albania, a watch visible on his left wrist
Mr Bush had taken his jacket off on a hot day and was in a short sleeved shirt, the watch clearly visible. It can still be seen as the heaving crowd presses round him - but the next moment it is no longer there.
Mr Bush was visiting Fushe Kruja, a small farming village some 30km from the capital Tirana whose businesses are financed by US grants. He had a cup of the cofffee in the local cafe and then in an impromptu move reached out to greet the crowd. He posed for photos and signed autographs while admirers shouting "Bushie, Bushie" mobbed him and even ruffled his hair.
"There were hands everywhere" said Corriere della Sera. "Most people just wanted to touch him and shake his hand. Someone however had another motive". It said the incident "sounds like a joke - the one about the Albanian crowd and the Presidential wristwatch".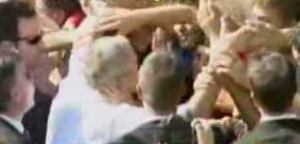 ©unk
Pic 2: Gone tomorrow. But as the crush of arms close on the President, his watch is lost from sight
Italian media reports said that Mr Bush only noticed his watch was missing when he got back to his armour-plated people-mover to be whisked back to Tirana airport. By the time he stood on the aircraft steps to wave goodbye someone on his staff had given him a replacement watch. He is said to wear a $50 Timex with the Stars and Stripes on the dial.
"Perhaps time has stood still for Bush since he gave the order to bomb Iraq" quipped La Stampa. It added: "Incredibly enough, none the 850 Inspector Clouseaus who were guarding him in Albania noticed a thing".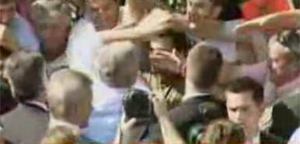 ©unk
Pic 3: And by the end of the walk, the presidential watch is nowhere to be seen
A White House spokeswoman denied today that that the President had been robbed. She also denied other Albanian reports that Mr Bush's watch did fall off during the vigorous walkabout but that it was returned to a bodyguard. Instead the spokeswoman said that Mr Bush had removed it himself. "He took it off," she said.
When challenged that this did not seem to happen during the footage shown on YouTube, the spokeswoman said: "I'm not going to change what I'm saying. I was told that he took it off about the one-minute mark."
Mr Bush's visit to ex-Communist Albania was in contrast to his reception in Italy, where thousands of protesters turned out. In Albania people wore top hats designed to look like the US flag and cheered him to the rooftops, commemorative stamps were issued and a street in front of Parliament in Tirana was renamed in Mr Bush's honour.
Albania backed the US-led invasions of Iraq and Afghanistan and wants to join both Nato and the EU. Mr Bush praised Albania as a country that has "cast off the shackles of a very oppressive society and is now showing the world what's possible". He added: "I love to come to countries that are working hard to establish the institutions necessary for a democracy to survive."