A Chinese park has reportedly painted stripes on a horse and is charging people to have pictures taken with the 'zebra'.
Shenyang botanical park is charging 30p each for pictures with the animal which, as well as painted black stripes, has fluffy white hair.
When asked if the zebra is real, the feeder answered: "It's from Africa. What do you call it, if it's not a zebra?"
"We saw right away that the zebra is fake, but we are here for fun, so it doesn't really matter," said a mother who had just paid for her child's picture.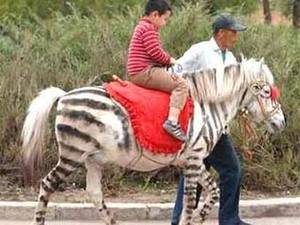 ©unk
According to the City Evening News, the park says it doesn't know if the horse is a zebra or not: "It's not that important. It is for fun," said a spokesman.