Cheese lovers can now watch cheddar mature 24 hours a day on the internet.
West country farmers set up the Cheddarvision website featuring a 25 kg block of cheddar, reports ITN.
Farmer Tom Calver said: "How many other cheeses do you know of on the internet that have their own webcam and a live feed to the internet? I don't think many."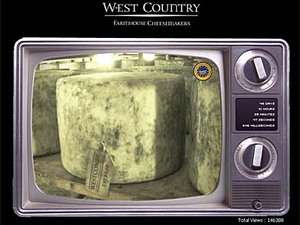 ©Ananova
The highlight of the day on www.cheddarvision.tv is at around 10am when the cheese at the Somerset dairy is turned.
"We've had 47,000 hits on our website, so somebody must like it somewhere," Mr Calver added.
Marion Harris who is in charge of the live webcam said: "I think if this website actually gets people to think a little bit more about where cheese comes from and the process it gets through before it gets in the shops, then I guess it's a good thing."