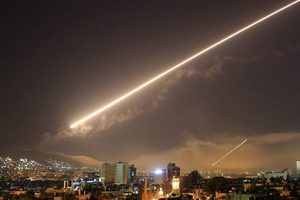 Syrian air defense systems protecting Damascus - the oldest continuously-inhabited city on Earth - from Western airstrikes, 14 April 2018
All truths are easy to understand once they are discovered; the point is to discover them.
- Galileo Galilei
Recent Comments
Yellow fever isn't a disease, it's caused by a parasite.
---
Meet James Le Mesurier - The "Former" British (Judaic) Army Officer Who Founded The White Helmets [Link]
---
I thought it was because the US never adopted the metric system...which angered the climate gods...
---
This is not only Navy which is incompetent. I still remember how the first ship of the second class (*), i.e. Independence, developed galvanic...
---
didn't they make a mosquito and turn it lose to kill the mosquito with the zika virus Now if that mosquito picks up the yellow fever from the...