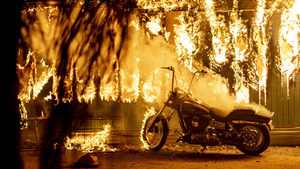 The Woolsey Fire in Malibu, California, November 10, 2018
He who passively accepts evil is as much involved in it as he who helps to perpetrate it. He who accepts evil without protesting against it is really cooperating with it.
- Martin Luther King, Jr.
Recent Comments
May needs to get her sh*t deal in the bag sharpish, 'cause Corbyn will do a Brexit, as it's a prequisite for his projected re-nationalisation...
---
Basically, if an issue goes on long enough, the spirit fades and reverses out of discontent. We live in a 20 year world. What was that old saw:...
---
Monkeyun caught in the act. It works out' but I'll bet it never works. Lets foolish whites it hates pay his way, while he laughs his way to cash...
---
Cells do not "have" memory - they ACCESS memory, which is non-material. Whether you call it "spirit", "consciousness", or whatever, it persists...
---
Welcome to the new America where you're guilty until proven innocent by the social media masses.