About StrictlyGenteel
I come from a small Island that is, like the rest of the world, is perceived as somewhere off the coast of America. It's called New Zealand and I live near Christchurch.
Christchurch rocks, and it's not just the earthquakes.
My primary form of communication is sarcasm.
(My original comment here was, "I just wish this fucking thing (Sott) would work so I can get signed up. This signup is a pile of seriously flawed shit.")
I should really delete it, but now that I'm finally signed up I decided to keep it as a reminder about how I conquered the beast. I notice that the site is regularly upgraded; maybe it's fixed by now. One hopes so.
I'm a vegetarian and still not talked out of being so. After 40 years of not eating red meat, the sight and smell of the stuff makes me puke.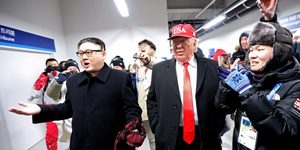 Did The Donald and Rocket Man secretly meet at the Winter Olympics in PyeongChang?
When a man knows he is to be hanged in a fortnight, it concentrates his mind wonderfully.
- Samuel Johnson
Recent Comments
Brilliant article Pierre! Well written and connects a lot of dots. [This is all about the destruction of everything human]. These liberals,...
---
More balony title says lavrov said US must, first sentence says lavrov suggest they leave not must leave
---
You can strip my AWS subsidized Amazon merchandise from my cold dead fingers... AWS may be big and evil, but it subsidizes my lifestyle by...
---
There's something wrong with the whole story.
---
I would not put it past the FBI to be lying about how they "failed to investigate" this kid. Knowing them, I would say they purposely let him be...