About philli I am a 6 year old brainiac with an IQ of 168. I already have a masters degree in Business management and a bachelors in Biology. I consider myself a Libertarian and am an admirer of Ron Paul and his common sense logic. I despise liars, hence I do not care for the majority of politicians.
I also like to do kid stuff like play video games, sports and I love most animals.
My favorite food is what is hot and ready to eat. Peace out Rabbit!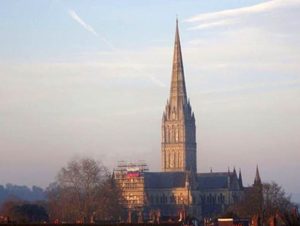 Salisbury Cathedral, 17 February 2019. Did you know? The spire is 123 meters tall, and famous throughout Europe...
The spirit of liberty is the spirit which is not too sure that it is right; the spirit of liberty is the spirit which seeks to understand the minds of other men and women; the spirit of liberty is the spirit which weighs their interests alongside its own without bias; the spirit of liberty remembers that not even a sparrow falls to earth unheeded; the spirit of liberty is the spirit of Him who, near two thousand years ago, taught mankind that lesson it has never learned, but has never quite forgotten; that there may be a kingdom where the least shall be heard and considered side by side with the greatest.
- Judge Learned Hand
Recent Comments
Those early summer mornings when the dew creates jeweled string ornaments should give us pause. Those spun spider webs artistically draped for...
---
are gone are the days of russian opera blasting out over the air waves but you could still find radio america if you knew its exact freq that was...
---
I wonder if the walking taking Georgia Guidestone and poster boy for eugenics eats the crap frankenfood he is trying to kill everyone with...
---
I think she should start making different use of her running shoes. ...and brain... Just saying.
---
A spokesperson for Ms Baker ... clarified she wasn't a vegan. That's obvious. Seems it would be capital punishment for her ...