About philli I am a 6 year old brainiac with an IQ of 168. I already have a masters degree in Business management and a bachelors in Biology. I consider myself a Libertarian and am an admirer of Ron Paul and his common sense logic. I despise liars, hence I do not care for the majority of politicians.
I also like to do kid stuff like play video games, sports and I love most animals.
My favorite food is what is hot and ready to eat. Peace out Rabbit!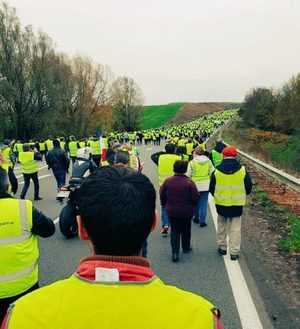 La France En Marche: Mass protests against rising taxes in France, 17 November 2018
For the great enemy of the truth is very often not the lie - deliberate, contrived and dishonest - but the myth - persistent, persuasive, and unrealistic. Too often we hold fast to the clichés of our forebears. We subject all facts to a prefabricated set of interpretations. We enjoy the comfort of opinion without the discomfort of thought.
- John Fitzgerald Kennedy
Recent Comments
If Julian wasnt an elk lynx and puma man... he d been a corpse a long time ago. (1st of all he wouldnt have survived his mom s crazy nomafic...
---
John Brennan, Victoria Nuland, Bill and Hillary Clinton, and Barack Obama should be proud of the little bands of fascist thugs the CIA built in...
---
"I would avoid it completely, if I was primarily concerned with ease of life, but there is no damned way I am going to allow your ill-informed,...
---
The Whores 4 War always fund and manipulate both sides of every war! People who either believe and or support them in genocide and generational...
---
Under George W. Bush and then under Barack Obama, the IRS division that oversees charities was run by a controversial person named Lois Lerner...