About Alden
My wife and I live a quiet peaceful life aboard a 44 foot Sailing vessel. The worlds ocean is our playground, we are currently cruising the Windward and Leeward Islands. We live in our floating home/office and explore our world. Our home is sailing on the blue part of the planet. We live a very conservative lifestyle enjoying cruising from place to place and seeing the world. We enjoy meeting new people and seeing new places. We treasure the freedom, independence and insight our lifestyle has given us and fellow world cruisers.
We are very direct people we say what we mean and do what we say. We are best described as open-minded conservatives. We believe that violence and war serve only a violence and war agenda. That the only way the world is truly changed is by peaceful social discourse between friends and even enemies. While we see many follow paths of their own we respect them, but follow our own path.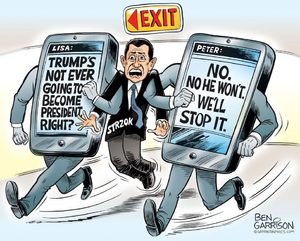 Strzok has left the building
Mystery creates wonder, and wonder is the basis for man's desire to understand. Who knows what mysteries will be solved in our lifetime, and what new riddles will become the challenge of the new generations.
- John Keel
Recent Comments
Put yourself in Dr. Jeremy Dean's shoes. If he doesn't come up with X amount of horse-shitey studies per month, his horse-shitey PsyBlog will...
---
Could well be that America is preparing to schtick it to its own since the powers that be have successfully divided the people via propaganda,...
---
Bill Gates is also a big fan of eugenics, so he might quietly pursue a similar scheme against human populations using vaccines... or perhaps GMO...
---
Trump didn't start it and it will continue after he is gone. Short of a cosmic intervention, the US is a lost case.
---
The control was already in place and democracy was non existent. Ike did what he was told to do. I got my first taste of it in the 50's when they...