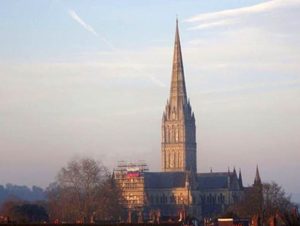 Salisbury Cathedral, 17 February 2019. Did you know? The spire is 123 meters tall, and famous throughout Europe...
When we talk about compassion, we talk in terms of being kind. But compassion is not so much being kind; it is being creative [enough] to wake a person up.
- Chogyam Trungpa Rinpoch
Recent Comments
The people of the US have been so propagandized by the Zionist media industry that they refuse to believe what they actually see and feel about...
---
Pretty witty: The monkeys can see only in black and white, and the reviewers can see only in random mutation and natural selection. Yet there's no...
---
The models are developing at a far faster rate than us. Graph it and you'll see, exponential curves. It is scary. Exciting, but scary. I want...
---
Wow.... a cop not long from retirement pulled this garbage... that's a LOT of cases now under suspicion! also, the 'lie you die' line... wonder if...
---
NOTHING about this 'attack' is credible! 2 guys either stalk this guy for who knows how long in sub-zero temperatures and then inflict incredibly...