About Gene Trump is called Fascist for his: (1) promises to "talk" to china and Russia, (2)Stop invading and destroying defenceless nations, and (3)deporting illegal immigrants and curtails Muslims entry to the US. Have you heard Chomsky calling Bush or the Clintons Fascists? Never. Chomsky is part of the Zionist established that is attacking Trump.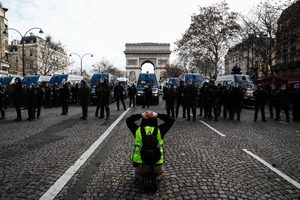 L'elite contre le peuple
It is easier to perceive error than to find truth, for the former lies on the surface and is easily seen, while the latter lies in the depth, where few are willing to search for it.
- Johann Wolfgang von Goethe
Recent Comments
we simply never noticed? Ah why is what I wonder considering the money you get then a little more competence wouldn't hurt.
---
A lot more success could be had by changing tactics and switch to hating billionaires because those are the people responsible for every single...
---
Jeezus, this woman really knows how to lower the tone of the neighbourhood. Oh look, she's got her designer dumb ass Alice Walker/Leon...
---
Her mistake was in thinking the kid was straight
---
Mohammed bin Salman is not liked by the globalists / deep state scum. The Khashoggi situation was engineered by them to turn the world against...