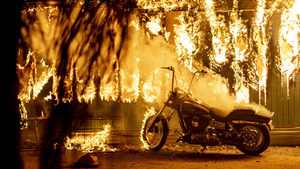 The Woolsey Fire in Malibu, California, November 10, 2018
He who passively accepts evil is as much involved in it as he who helps to perpetrate it. He who accepts evil without protesting against it is really cooperating with it.
- Martin Luther King, Jr.
Recent Comments
The whole point of the tariffs against China is to hurt them economically which will hopefully bring them to the bargaining table to make a fair...
---
Dus7... You speak for yourself. Don't say you represent us. As the recent election proved many people agree with what the "U.S. Government" is...
---
Food and beer prices to rise indefinitely, and shortages. [Link]
---
[Link] Guess this is a fit
---
A severe geomagnetic storm struck Earth on March 13, 1989. It occurred during solar cycle 22 and caused a nine-hour outage of Hydro-Québec's...