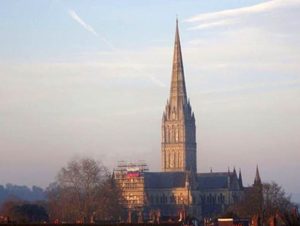 Salisbury Cathedral, 17 February 2019. Did you know? The spire is 123 meters tall, and famous throughout Europe...
The spirit of liberty is the spirit which is not too sure that it is right; the spirit of liberty is the spirit which seeks to understand the minds of other men and women; the spirit of liberty is the spirit which weighs their interests alongside its own without bias; the spirit of liberty remembers that not even a sparrow falls to earth unheeded; the spirit of liberty is the spirit of Him who, near two thousand years ago, taught mankind that lesson it has never learned, but has never quite forgotten; that there may be a kingdom where the least shall be heard and considered side by side with the greatest.
- Judge Learned Hand
Recent Comments
What about fat ozzy cow farts?
---
The Democrats are not leading the coup to acquire Venezuela's oil, although they've been conspicuously silent on the matter. By the way, Trump's a...
---
Whenever a private company, especially one groomed and started with government money like this one ( and aren't most all the BIG ones started this...
---
Isin't Cornell where every prominent jew goes to college?.. Just sayin"!! If his ostensibly good (but really genocidal) plans are a shitty as his...
---
Facebook, needs to be shutdown because of its bias towards certain groups of people it doesn't like because of their veiws, hang on isn't that...