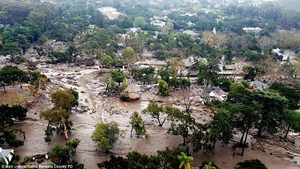 9 January 2018: Mudflows cause at least 20 deaths in Montecito, California
People convince themselves of their own lies, becoming victims of their own inventions as they begin to direct their lives by standards of behavior, ideas, feelings, or instincts which do not correspond to their inner reality. What is truly serious in this matter is that the individual loses all points of reference regarding what comprises truth, and what comprises lies. He becomes used to considering as true only that which is convenient for his personal interests; everything that is in opposition to his self-esteem or in conflict with already established prejudices, he considers false.
- John Baines
Recent Comments
HA2; America tried its own T. Square. It was called Occupy Wall Street an was controlled by the gov;t police / NSA CIA FBI before the word even...
---
..." the presiding council member ordered a police officer to arrest him. " Seriously?
---
The result is all too familiar. If you know a Florida attorney, ask them about 'PCA's' which are probably more commonly used here than in any...
---
People demanding justice, demanding accountability or demanding basic human rights without resorting to violence, should not be greeted with...
---
Millions of lonely people on a relatively small island. That's a head-scratcher. I can't think of a solution.