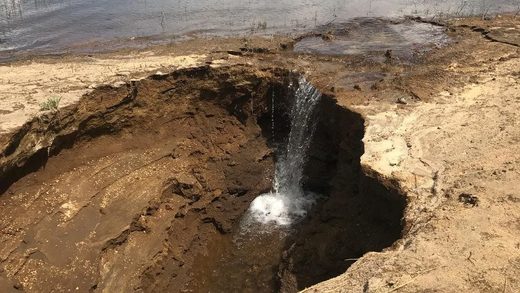 Officials warn that the ground is 'highly unstable'

A sinkhole opened up on the edge of Wickiup Reservoir over the weekend — possibly due to a collapsed lava tube — but officials say water levels at the reservoir just west of La Pine are expected to remain stable.
Photos shared by the Deschutes National Forest earlier in the week showed water draining into the sinkhole. During a visit to the area on Tuesday, the hole was just above the water line. Crews with the North Unit Irrigation District, which operates the Wickiup Dam, placed sandbags to keep water from spilling in to the hole on Tuesday.
Dave Walsh, spokesman with the Bureau of Reclamation, said the hole is roughly 10 to 12 feet across and about 4 feet deep. He said a geologist who examined it on behalf of the bureau on Monday estimated water was flowing down the hole to parts unknown at around 900 gallons a minute.