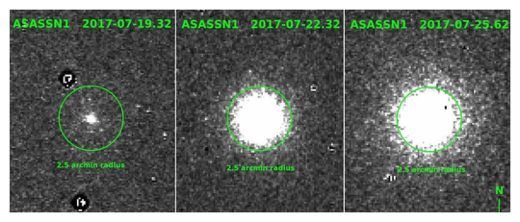 There are countless chunks of icy debris swirling around the Oort cloud on the outskirts of the Solar System. But it's always exciting when one of those comes in our direction for a rare flyby.
In July, astronomers discovered a brand new comet zooming through the inner regions of our space bubble.
Since that time it's been steadily getting brighter, and now is about the best time to finally catch a glimpse of it in the night sky.
The comet C/2017 O1 ASAS-SN was first detected on 19 July by the
All-Sky Automated Survey for Supernovae
, the same system that brought us new discoveries
about the mysterious Tabby's star
, massive
space explosions
, and stars
shredded by black holes
.
Now, for the first time, the survey has discovered a comet which Northern Hemisphere stargazers can readily spot in the sky with the help of a backyard telescope or even just binoculars.
Comet O1 ASAS-SN is
a long-period comet
, and it probably takes at least several thousand years to cruise around the Sun and come back - so being able to spot it right now is a wonderful treat.