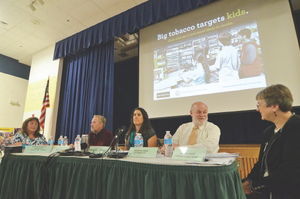 Westminster, Massachusetts -- In the aftermath of an emotional public hearing on the town's proposed tobacco-sales ban, some residents were discussing the possibility of recalling the Board of Health members who proposed the new policy.
If the residents did want to recall the Board of Health, Town Clerk Denise MacAloney said they would only be able to recall two of its members. Since 1995, the town has had a bylaw providing for recall elections, but the bylaw states that an elected official with six months or less left in his or her term is not eligible for recall.
"(Board of Health chair) Andrea Crete's term is up on April 28, so she wouldn't be eligible," MacAloney explained.