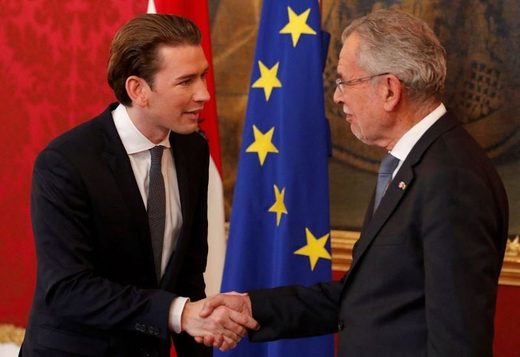 The new
Austrian government
will set the political agenda for the European Union, as its coalition leaders look to change how Europe is run.
Prime Minister Sebastian Kurz struck a controversial coalition deal with the far-right Freedom Party to form a new Government.
In return,
the Freedom Party were given top cabinet posts and control over the Interior, Defense and Foreign Ministries
.
The new coalition leaders will not seek to leave the EU, but instead seek to change how the bloc is run, according to political analyst Thomas Hofer.
Mr Hofer told the BBC: "The Freedom Party will set the agenda across Europe, not just in Austria.
"
There are people inside the party who are very radical, but their policies are becoming mainstream.
"Issues-wise, as a party, they haven't changed. It is Europe and Austria that has changed.
"They brought up a lot of issues which were unutterable back then, and are now pretty mainstream all over Europe."
Comment:
Across Europe coalitions are becoming the norm as traditional parties no longer hold the majority, and we're seeing a rise of the far-right that speaks to EU citizen's dissatisfaction with the dictatorial control the EU has over them, especially on issues surrounding the refugee crisis:
Austria has also revealed that they plan to hold an EU summit next year,
to push a tougher anti-immigration line
on the wider European stage.
The new government has not wasted time in
confronting other European powers.
The coalition has also pledged
to resist
EU centralisation
and "take back control" top-down orders from Brussels
, according to Mr Hofer.
Last weekend, Mr Kurz, who has insisted on his pro-EU position, described his coalition as one which wants to "actively shape Europe".
According to the BBC report, those in Brussels fear that
the country could move towards the populist policies of Poland and Hungary, and turn away from traditional allies like Germany.
Publicly, European Commission head Jean-Claude Juncker has said he had no bias against Austria's new government, adding it would be judged on its actions.