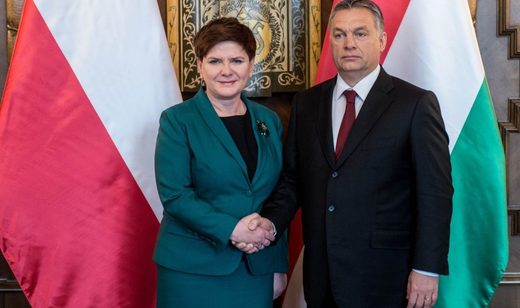 Hungary has announced
it will veto any plans to take away Poland's voting rights
in the European Parliament, saying the resolution is "out of the question".
Deputy Prime Minister Zsolt Semjén has called the proposed invocation of Article 7 against Poland "shameful and scandalous"
.
"The Hungarian government stands by Poland and the adoption of such a resolution is out of the question," he said.
The motion to begin removing Poland's voting rights passed earlier this week by 438 votes to 152.
Polish MEP Ryszard Legutko stormed out of the chamber
,
branding it an "Orwellian show"
and "a show of strength against the Poles..."
Hungary's MEPs who are allied to the Poles refused to back the motion,
"unacceptable" that "Brussels should pressure sovereign member states" and "punish democratically elected governments".
Juncker will be furious that countries are beginning to fight back!